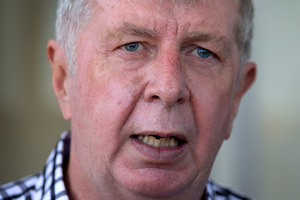 There may be an explanation as to why Maurice Williamson's political judgment deserted him to the extent he interfered in a police investigation that cost him his ministerial post.
The generous one is that Williamson gets so passionate about his issues he got lost in the cause of advocating for a Chinese investor he believes is good for New Zealand - an investor who turns out to be his neighbour at Pauanui Beach.
A less generous one is that power has been so corrupting he lost the ability to tell right from wrong.
Opposition parties pulled their punches yesterday and avoided using the word "corruption" against Williamson that they have tossed around with abandon over minister Judith Collins and her association with the Oravida company.
It may be that they believe in the generous explanation for Williamson's behaviour.
It may be that they know there is no mileage in kicking a dog when he is down, especially a popular old dog like Williamson. Or they may be saving their attacks for next week when the themes National, cronyism and corruption will be on trial, along with John Key's standards.
Key himself will be a difficult target for the Opposition. It is hard to argue he has poor standards when he has just sacked a minister for failing to meet them. And he acted quickly enough.
According to Key's office, the Prime Minister was informed on Tuesday night about Williamson's interference in the case in January.
In between a visit to the Taranaki-King Country electorate on Wednesday, he talked to Williamson on Wednesday morning, and got his agreement on Wednesday evening to resign the next morning.
Key was able to point explicitly to the Cabinet Manual rule that Maurice Williamson breached.
Rule 4.14 says: "Following a long established principle, Ministers do not involve themselves in deciding whether a person should be prosecuted, or on what charge."
Even if there were not a rule that specifically covered prosecutions (the manual does not cover all eventualities), what Williamson did in asking the police to review a case was clearly a sackable offence. A backbench MP could have told him that. The fact he did not recognise it for what it was is as worrying as the action.