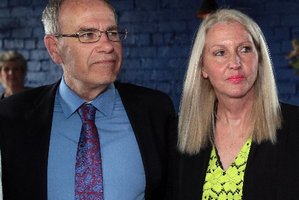 A private prosecution alleging bribery against Auckland's embattled Mayor Len Brown has been stalled at the Auckland District Court.
Two charging documents sent to Auckland District Court by retired Wellington accountant Graham McCready state that between November 2010 and November last year, Mr Brown accepted for himself and his wife Shan Inglis three complimentary hotel rooms and five free room upgrades from SkyCity and SkyCity Grand Hotels.
The gifts, worth about $4600 by Mr McCready's calculations, led to "favourable consideration" given by Mr Brown towards SkyCity and parent company SkyCity Casinos, say the documents.
However, in a decision from Judge Emma Aitken released yesterday, she said the private prosecution could not proceed until the Attorney General consented to it.
McCready said he will now make an application to the Attorney General for the consent and he does not receive it, the private prosecution will be refiled.
"This matter is not going to go away any time soon," he said. "We do not claim perfection only progress, but we are making progress towards perfection one day at a time."
- APNZ