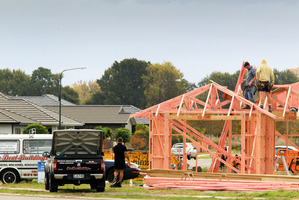 Councils are being blamed for the high cost of building New Zealand houses, ahead of the role played by manufacturers.
Branz economics manager Ian Page and economist Matt Curtis wrote a research paper for the Construction Strategy Group showing the biggest increases in the cost of building a new house were from rising local government resource consent fees, up 75 per cent in the last six years.
Materials costs had risen only 12 per cent since 2008.
Their research is out at the same time as the Government is criticising the building sector for charging 30 per cent more than in Australia, and raising questions about the price of materials.
Shares in Fletcher Building, the country's biggest building materials manufacturer and distributor, fell 23c to $9.50 on Wednesday after the Government released an options paper seeking feedback on changes to help resolve the housing affordability crisis. The company's shares closed up 2c yesterday at $9.52.