Mayoral candidate says new green city in Manukau beats Brown-style intensification.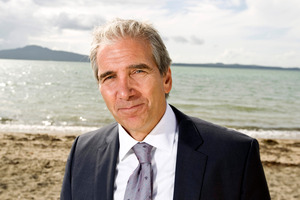 Auckland mayoral candidate John Palino is promising to build a smart, green new city - possibly at Manukau - as an alternative to "sprawling intensification" proposed by Mayor Len Brown.
A second CBD is the most efficient and environmentally responsible approach to managing Auckland's growth, says the right-leaning businessman and main rival to Mr Brown at October's local body elections.
Mr Palino said concentrating new development on industrial land in Manukau or elsewhere serviced by rail or a busway would not only take the growth pressure away from suburban Auckland, but create a new city where people wanted to live.
He has criticised provisions in the new planning rulebook for the city - or Unitary Plan - to cram new residents into suburbs not designed for intensification. The plan may be notified on the eve of the elections and he has promised a review of it.
"The council's top-down 'my way or the highway' approach to growth has killed off the excitement we all should be feeling about Auckland's future," Mr Palino said.
He said the way to fund a second CBD was through local government infrastructure bonds, which would be offered to New Zealanders first. The project would also justify lower, if not waived, development contributions.
Mr Palino's alternative to suburban intensification comes as Auckland councillors gear up to make decisions on the Unitary Plan at a three-day meeting starting on August 28.
Among the contentious issues still to be resolved are plans for small-scale apartment buildings in half of suburban Auckland, which have been toned down after concerns that developers would be able to apply for resource consent for three-storey apartments without any public say.
Building heights, heritage rules, minimum dwelling sizes, development controls and volcanic viewshafts are other meaty issues at what Deputy Mayor Penny Hulse has called the "pointy end" of the process.
Once the Auckland Plan committee wraps up the detail, the Unitary Plan is likely to go to the last council meeting this term on September 5 for ratification.
It will then take between three and four weeks to print and notify the document, leaving little time for Aucklanders to digest it before postal voting closes on October 12.
John Palino's city plan
*Build a second CBD, possibly at Manukau.
*Located on top of rail or busway.
*Alternative to suburban intensification.
*Funded by local government infrastructure bonds.
*Lower, if not waived, development contributions.