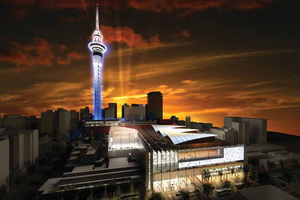 A State sector financial whiz hired to check SkyCity's sums attacked the basis underpinning the "independent" report used by the Government to justify the convention centre deal.
The existence of memos attacking the foundation of the deal was discovered by the Herald after an analysis of the document release by the Government this week.
The memos were not included in the release and officials said last night they had been excluded from the large amount of information considered for release.
The memos, written by state sector financial analyst Tim Robinson, cast doubt on the financial model used in the KordaMentha independent report which found the government was swapping $400 million in concessions in return for a $400 million convention centre. The independent report was cited by Economic Development Minister Steve Joyce as proof the deal was fair to both SkyCity and the taxpayer.
The KordaMentha report qualified its finding saying "our work relies on SkyCity's modelling and analysis because much of the information in each party's submission is provided by SkyCity". The modelling work was finalised on January 20, 2012.
Four days before it was finished, Mr Robinson told the lead Government negotiators he needed to "raise concerns about the objectivity and credibility of SkyCity's modelling". He said the casino was unable to defend its stance on the deal, saying it was in an "untenable" position. He said advice given to SkyCity was "misconceived and inconsistent with finance theory and practice".
Officials still refused to provide the memos last night and the few details to emerge are in a letter from casino boss Nigel Morrison who was sent the memos by KordaMentha.
Mr Morrison said SkyCity "strongly objects" to Mr Robinson's views. "It is SkyCity who is spending a huge capital sum and is charged with turning that investment into subsequent earnings. In doing so, SkyCity is assuming all the commercial risk."
He said Mr Robinson was wrong and possibly misunderstood the casino company's work, adding it was inappropriate for him to label the casino's position as "untenable".
The memos came after Treasury advice in December 2011 to Mr Joyce which said it was doubtful the centre would attract more conventions - and unlikely the public would get back its investment.
Labour Deputy Leader Grant Robertson said withholding release of the memos was "bizarre". A spokesman for Mr Joyce said the memos contained commercially sensitive information and would have to be considered separately for release. He said the memos were part of KordaMentha's considerations.