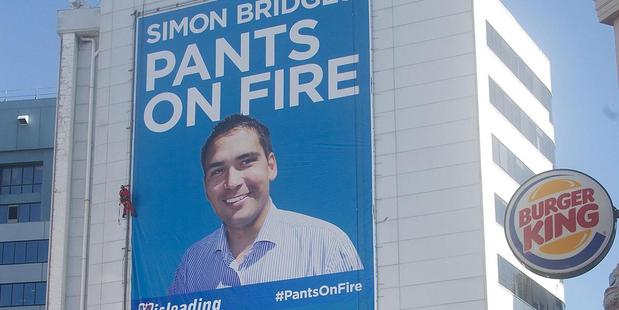 Greenpeace has erected a huge billboard in central Wellington accusing Energy Minister Simon Bridges of misleading Parliament over a meeting he had with oil company Shell.
The billboard, at the corner of Manners St and Cuba St, is almost 300 square metres and says: "Simon Bridges Pants on Fire".
Greenpeace said Mr Bridges misled Parliament over his contact with Shell about a controversial Crown Minerals Bill amendment covering deep-sea protests.
The sanctions were rushed into law in May without public consultation
It later emerged Mr Bridges had met Shell in February, two weeks before taking a paper on the protest changes to cabinet.
Greenpeace chief political adviser Nathan Argent called on the minister to release full details of that meeting.
"It looks like Simon Bridges' pants may very well be on fire, and that's not a great look for our energy minister," he said.
"He's had a chance for the last few weeks to douse the flames, but he's instead kept the flares. And now thousands and thousands of people in the capital city, every day for the whole month, will get to see his misleading fashion sense."
Mr Bridges said while the Opposition and Greenpeace may wish otherwise, there was no conspiracy.
"I was not, at any time, lobbied by Shell or anyone else to make the changes to the Crown Minerals Act ... I met with Shell, but the issue was not discussed. Ministers regularly meet with business. However, decisions are made by Cabinet.
He said he was "chuffed" about the billboard.
"As a boy from Tauranga, I've always wanted my name up in lights in the big city. Now it's happened and I managed to get Greenpeace to pay for it."
- APNZ