David Shearer has spent another week fending off speculation about his future. Claire Trevett talks to the Labour leader about coup rumours, media ethics and the pressure to perform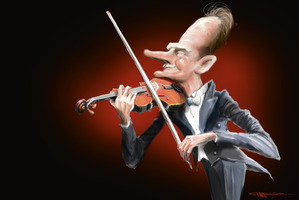 These are the things Labour leader David Shearer wants to be talking about: The SkyCity Convention Centre legislation, Solid Energy, home affordability, jobs and the price of electricity.
He set out this list on Tuesday morning, just after announcing Labour was pulling the so-called "man ban" - a proposal under which electorates could have run women-only selections. The reason he did that was because he believed New Zealanders did not want Labour to be talking about themselves, they wanted Labour to be talking about the issues he listed above.
Now it is about 9pm on Wednesday, and Shearer has just returned to his office in Parliament from a meeting of the Security and Intelligence Committee.
And what he is actually talking about, through no desire of his own, is his leadership, polls, man bans, and the media and how polls, man bans and the media have affected his hold on the leadership.
Earlier in the day, he was down in Parliament trying to talk about the items in his first list by asking questions about power prices. But Prime Minister John Key wanted to talk about man bans and leadership too, albeit in between criticising Labour over its own record on power prices during the years it was in Government from 1999 to 2008.
The reason for that was because, hours after Shearer scotched the man ban, Radio Live's Duncan Garner tweeted that a source had told him a coup was under way in Labour. There were even details: a letter of no-confidence was doing the rounds. Bad luck comes in threes, and that tweet followed the man ban issue and a bad poll result for Labour and Shearer in the Herald-Digipoll survey, taking it perilously close back to the 30 per cent mark.
As it turned out, no coup took place and all MPs denied any knowledge of any letter. But the frenzy it caused prompted Shearer to say, the next morning, that he wanted a "fair go" and for media to report on facts rather than unsubstantiated rumour.
Now, he says the events that unfolded - or didn't unfold - in the wake of Garner's tweet were "extraordinary".
He is not prone to panicking. He says he was sitting in his office when the Garner tweet went out. He was told immediately and his first reaction to a report of a letter of no confidence was this:
"The first thing I thought was 'that's a very old fashioned way of going about it'. It's something you'd see in the 1970s."
Rather than hole up in his office and wait for the news he got up and wandered down the corridor. "I put my heads in people's rooms because I wanted to know if people had heard anything about this."
"We knew within 10 minutes, it was bollocks. I never thought it was serious."
Asked how to respond to such rumours, he says it's similar to the old "are you still beating your wife?" question.
"There's no good answer to that. One way or another, there's an implication there."
He said the problem was that it went from one tweet into the mainstream media "writing about a rumour that never was. What sort of a story is that?"
There is nothing new in MPs claiming the media are treating them unfairly and Shearer is wary of looking sulky. He says he is only talking about the recent cases in which rumours seeded by one anonymous person have turned into big news, regardless of whether there were grounds for it.
"On a number of occasions there have been situations where the journalists are making the news rather than reporting on the news. The story has already been scripted and they just want you to say 'yes' or 'no' in the middle of it."
By way of example, he refers to 3 News' Patrick Gower running a lead story based on one anonymous MP saying caucus would turn its mind to whether or not to roll Shearer in the spring. "Most journalists I've spoken to have said you'd normally write a story based on four or five sources, not one with very dubious language."
Shearer says it makes it harder to do his job, whether fairly or unfairly.
"If it feeds into the public arena, it reinforces all sorts of negative issues that are not true. It adds to a perception and is much more difficult to bring into check."

It is a theme he has touched on before, in a more light-hearted fashion. He was relatively new to Parliament when he became leader, and swept from the tranquil waters of the backbenches into one of the most scrutinised and analysed jobs - that of Leader of the Opposition. During Parliament's end-of-year debate last December, his tongue firmly in cheek, he "thanked" the media for "what can be described only as fair and balanced reporting of my first and honeymoon year. I love your work as much as you say you love mine."
That honeymoon year was marked by coverage of his stumbles in press conferences and speculation over his leadership, including his demotion of David Cunliffe for showing disloyalty by refusing to endorse his leadership at the party's conference in November.
Shearer's hiccups are often blamed on his inexperience in politics.
Most of those "mistakes" have been simple gaffes, but people have been quick to leap on them. It is the leader's lot to take the blame, and some mistakes have been his alone, but in certain instances other people should share the blame.
On the man ban, the main offence was allowing it to turn into a serious proposal in the first place. There was also criticism of the delay before any real management of the issue emerged. Shearer has taken it on the chin, but others in caucus have said he was not the only one to blame. One MP says qual blame rested with the party and the caucus, and caucus as a whole "didn't have our eye on the ball". Had the political antennae been tuned, a red alert should have been raised very early on. As it was, the only person who apparently did recognise it as a political timebomb raised that alert with right-wing blogger Cameron Slater instead of with Labour.
There were the invitations to the SkyCity box, accepted by Labour MPs soon after Labour had slated the SkyCity Convention Centre deal with the Government. Shearer had known they were there and popped in to say hello. Some have complained that his Ikaroa-Rawhiti by-election clarion call of "we will terrorise our opponents" was too close to the mark, although he argued that "was a joke on the marae" but the meaning and humour in the delivery did not translate well in black and white words. "They thought it was funny on the marae."
Early in his reign, some objected when, to illustrate welfare fraud, he used the example of a man on the sickness benefit who was well enough to fix his own roof.
"The issue for all politicians is that things get taken out of context and blown out of proportion somewhere else. But that's a problem for all politicians."
The Prime Minister has made similar "mistakes" and many more of them. There have been "gay red shirts", jokes about cannibalism and Tuhoe and his "brain fades" over the appointment of the GCSB director. But mistakes are magnified by the polls - and the Prime Minister has good poll results, so nobody is looking for reasons to roll him.
Shearer tries to keep his own poll results in perspective. "We could form a centre-left Government right now on our polling and that's halfway through an electoral cycle. There's every reason to believe that when you get more oxygen coming into an election year, you start to pick up. So I don't have any particular worries about where we are."
He says stress is not an issue for him. He exercises and spends time with family and friends when he needs to get away from it. His absence of self-doubt also helps. "I'm kind of comfortable in my own skin. Something will happen, it might not always go quite right but I'm always confident about myself and where I stand in the world."
He values honesty and integrity. "I know that sounds trite, but I believe that."
Green co-leader Russel Norman once described Shearer as a "grey machine man". It was the line he used during the Mt Albert by-election in 2009, in which he stood against Shearer. Norman couldn't have known then, that the grey machine man would be his ticket to the Government benches. It is no surprise that he now holds a different view.
"That was a long time ago. He's someone of substance. He has strong values and deeply held beliefs. It's been good to get to know him."
Norman says he doesn't know what goes on in Labour's caucus but from the outside it is clear Shearer has had "challenges" and there is constant speculation, which Norman believes is seeded by the right in a bid to de-stabilise Labour. As to whether that is fair, he points out despite all the doom and gloom the polls between centre-left and centre-right are tight. "Shearer is within a few points of being the next Prime Minister."

One common theory is that Shearer needs "a Heather", a reference to Helen Clark's former chief of staff, Heather Simpson, who was seen as a formidable figure and whose stature grows more and more heroic with the passage of time.
Shearer came into Parliament directly from overseas, so did not have his own coterie of trusted advisers at hand. Instead, he is relying on others' trusted advisers. His former chief press secretary, Fran Mold, was inherited from Phil Goff. Though Mold was probably the adviser Shearer trusted most, she left a month or so ago. His chief of staff, Alastair Cameron, was a friend of Grant Robertson. Shearer appears to trust Robertson, but that trust is by necessity time-limited, given it is no secret Robertson one day wants his job. There is talk Shearer is on a hunt for his Heather, and has been asking around to see who might be appropriate. However, he won't discuss his staffing.
Asked what he considers to be his mistakes, he refuses to answer. He admits there have been some, but he will leave it to others to list them.
"I'm not going to go through my mistakes. You make judgment calls, and I have to say intuitively, my intuition is generally pretty close to where I should be. Sometimes I perhaps listen to too much advice."
When he appointed his shadow Cabinet soon after becoming leader, he put them on notice to perform. He also put himself on notice to perform. He stands by that. "You're always under pressure to perform better. Particularly when you're in Opposition, there's never a chance of getting it exactly right. Some people will always find fault, and vice versa."
Some MPs are jittery but trying not to panic. There is no apparent mood for immediate change. But a few have pointed out the obvious: that the next polls could scare the horses if the results are in line with the Herald-DigiPoll drop.
There is no personal malice against Shearer. Most of those who spoke to the Herald admire him and like him on a personal level. Several say he would be a good Prime Minister. The question they leave hanging is whether he has the wherewithal, or whether caucus has the patience, for him to actually make it that far.