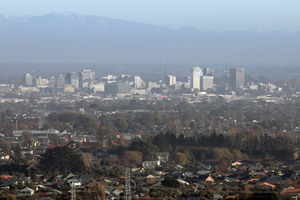 The besieged Christchurch City Council finally has some positive news over its building consents saga, with the department's insurance cover given a one-month reprieve.
The Government said last Friday the council had advised that its professional indemnity and public liability insurer Riskpool had withdrawn cover from July 1 for claims under the Building Act in the wake of the city's consenting crisis.
International Accreditation New Zealand (IANZ), which withdrew the council's ability to issue consents, has raised concerns over technical processing that means building consents might not meet the requirements of the building code.
Councillors Helen Broughton and Tim Carter and the council's acting chief executive, Jane Parfitt, met Riskpool representatives yesterday.
Riskpool confirmed it has given notice of its intention to withdraw professional indemnity cover for claims arising from the council's Building Act functions and this would be effective from August 10, 2013 and not immediately as first indicated.
In the meantime, Riskpool is preparing a proposal for alternative cover for claims that might arise from all other council activity.
Riskpool explained its actions were a consequence of the issues identified in the media by IANZ and which ultimately led to the loss of the council's building consent accreditation.
"While it is disappointing that the council will lose cover for its Building Act functions in early August, it was a positive meeting which helped clarify the position," Ms Broughton said.
The council is working to address those issues and have its accreditation reinstated, she said.
While that process is underway, the council and Riskpool have agreed to maintain dialogue on progress and possible future coverage.
Meanwhile, some building consents issued by the embattled council did not fully meet the building code, a probe has found. But none of the 17 consents, issued last September, raised any safety concerns.
The Government ordered an audit of potentially non-compliant consents identified during IANZ's building consent assessment of the council.
IANZ identified 17 consents issued last September where full compliance with the requirements of the Building Code or Act had not been demonstrated.
Ministry of Business, Innovation and Employment officials have reviewed the consents and while they found processing failures, the consents are "all technically sound and would not result in any safety issues," Building and Construction Minister Maurice Williamson said.
"Many of the failures relate to incomplete or incorrect administrative processes.
"Officials are auditing a further sample of consents issued by the council in the past six months to be sure consents haven't been issued for unsound buildings. I expect the results in the coming days."
Chief executive Tony Marryatt has been stood down on indefinite leave over the building consents crisis and Crown manager Doug Martin appointed to conduct a wider audit.
Environment Minister Amy Adams yesterday instructed her officials to carry out an independent "diagnostic assessment" of the council's resource management planning and resource consenting functions.
- APNZ