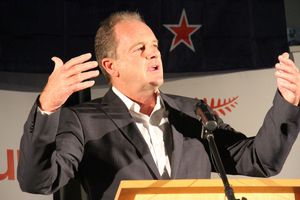 David Shearer has strenuously denied there are moves afoot within his own caucus to have him dumped as Labour's leader - and senior colleagues are backing him up.
Parliament was abuzz last might with rumours that some MPs have drafted a letter of no-confidence in Mr Shearer.
Labour MPs contacted by the Herald dismissed the talk - one as "horse***t'' and another as "bull***t''.
But it is also evident that Mr Shearer is not on safe ground.
Some MPs conceded that there is anger in the party organisation particularly in the way he ditched the proposal for "women-only'' selections which was to have been debated at the November conference.
Other sources suggest MPs are also unhappy with his performance but will give him a little more time.
Under Labour's rules, a leadership contest can be forced if more than half of Labour's 34 MPs sign a letter of no confidence in the leader. If Mr Shearer lost that, it would then go the party for a vote.
Labour's leader also faces a three-yearly endorsement vote within three months after a general election, at which he must get at least 60 per cent support in caucus.
The party organisation favoured David Cunliffe against Mr Shearer in the post-election leadership contest in 2011.
- NZ Herald staff