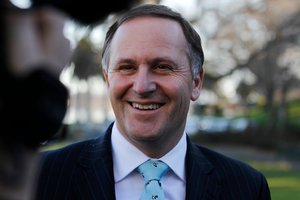 Prime Minister John Key says a decision on whether he will work with New Zealand First after the election is a long way off, but he does want the party's support to pass changes to the country's spying laws.
Mr Key yesterday acknowledged he did not yet have the support to pass amendments to the GCSB spy agency law after United Future leader Peter Dunne said at the weekend his support was not guaranteed.
That means Mr Key may have to rely on the support of New Zealand First leader Winston Peters to get the bill passed.
Mr Key told TV3's Firstline today that he was open to compromise.
"You'll remember when the bill was first introduced, New Zealand First indicated there were a couple of areas where they would have preferred change to support the legislation - that was around essentially a group of people deciding when a warrant an be issued, I think, and various other minor changes.
"So there was nothing there that we saw that was impossible."
Mr Key said officials were looking at the proposals.
He said that as a minority Parliament, he always needed to build a majority unless it was on confidence and supply issues.
"So there's nothing new about this process."
Asked if anything could be read into his relationship with Mr Peters, Mr Key said: "Not at this point."
He said the Government had worked with New Zealand First on other matters.
"It's not unusual to have New Zealand First vote with us, it's not unusual for us to talk to them about various bills.
"But in the end, when we get to [the election in] 2014, we are going to have to decide in my view whether we're prepared to give an indication of whether we would at least talk to New Zealand First after that election, and in the end we may or may not give that nod.
"He may or may not decide that he wants to, and he may or may not get back. All of those things are factors in the hand of, to a certain degree, the National Party leadership team and the voters, but that's a long way away from where we are to today.
"At the moment we're trying to make sure our national security legislation is amended to protect New Zealanders and that's really important."
Asked if he would prefer the support of New Zealand First or United Future, Mr Key said: "Funnily enough I'd prefer both."
Mr Key said people were jumping to conclusions about Mr Dunne and he would be "amazed" if he did not vote for the bill.
"I'm extremely confident Peter Dunne will vote for the legislation."
Mr Dunne had been on the Intelligence and Security Committee for a long period of time, Mr Key said.
"He knows the value of national security and he knows that we actually do need to clarify the law to allow assistance to be provided to the likes of SIS and the police."
- APNZ