The National MP who used to be a grumpy maverick gave a speech about same-sex marriage and overnight became a gay icon. Who'd have thought?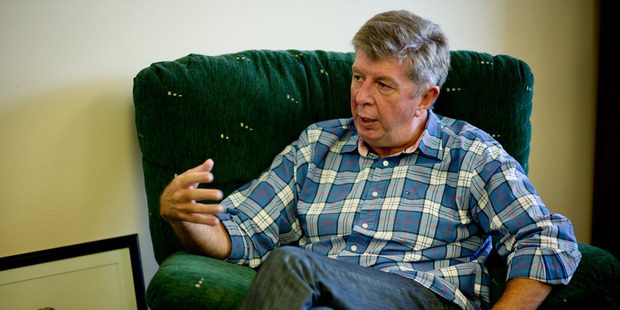 Nobody could be more surprised than Maurice Williamson - other than his wife, his three kids and ... oh let's just say the entire country and quite possibly the universe - that one morning he woke up and found he had become a great big gay icon.
Nobody could be more surprised than me to find myself in his Pakuranga electoral office asking the National MP of 27 years: What's it like to be a gay icon?
There is no use asking him. He hasn't the foggiest idea. Still, I have a sneaking suspicion that he is rather enjoying being whatever one is.
I asked his son, Simon, what he thought and he said: "It's surprising."
He said this in a way which suggested that he got over being surprised about his father's antics some years ago. We had just watched him doing a surprisingly good impersonation of Peter Sellers as Inspector Clouseau. "He walks up to this counter of this hotel and there's this massive big Alsatian sitting there and he says to the guy, 'Pardon Monsieur, does your dog bite?' And the guy says, 'No, it does not'.
And he says, 'thank you ... hello poochie! How are you?' And the dog just savages him and Sellers is going, "Aagh!" And he says, "I thought you said your dog does not bite?' And the guy says, 'I did Monsieur. That is not my dog'!"
He did this with accents and actions. I wish I'd had a video camera because it was quite something to see and if put on YouTube would no doubt be almost as much of a hit as his gay marriage speech - and that's saying something.
Never mind the gay icon stuff. Maurice Williamson, comedian? Who would have known?
He says he used to be funny but that you aren't allowed to tell jokes in public now because there's always somebody who will dob you in for it and somebody who will take offence.
He was still in negotiations with the Ellen show about whether he'll appear and when. He wants to talk about New Zealand and promote the country as a place of tolerance and so on but they obviously want Maurice Williamson, the comic MP.
The PM seems keen for him to go. He claims he has no idea what the PM meant when he said: "It would be hard to stop him"; he might have an inkling. Any sensible PM would have learned long ago that Maurice does what Maurice wants to do and that trying to stop him results in carnage on the tracks.
Still, you'd think he might be a bit nervous. I know I am.
I said: "You're not going to go on and tell one of your Muslim jokes are you?" He once (once!) got into a spot of bother with one of his jokes, a Muslim one, which I have no intention of repeating here.
He said: "I'll be very careful not to tell any jokes!"
Can he, I wondered, be careful? "Well, Michele, I think it's the saddest thing about politics of recent years ... I did a lot of fun debates with Gary McCormick and Jim Hopkins and Lynn of Tawa ... and some of the lines were very bawdy and very risque and the audience was in fits and it never got mentioned again the next day. You can't even crack a joke now without someone being offended. So you can't tell fat jokes, skinny jokes, tall jokes ..."
So no more jokes then.
He said: "I did an Irish joke once. Let me tell you an Irish joke." He told me the joke, in an Irish accent (I've heard worse), which resulted in a letter from an Irishman "complaining about the denigration of Irish people. That joke is actually about the Israelis and the Palestinians." He is quite right, it is. So I am certainly not about to repeat that one either.
Has he ever watched the Ellen show? "No."
I thought that was even funnier than his Inspector Clouseau. He does know who she is. "Oh, yeah, yeah. I do know who she is. I know she's great fun. It's just that I think she screens during the day when I wouldn't get the chance to watch TV." You'd think he might have had a look but he is even busier than ever. He has gone from having about five Twitter followers to - he checked - 7800 by Tuesday. He's had thousands of emails. He showed me Ellen's tweet, linking his speech to her website. Ronan Keating has tweeted about his speech. I'm not sure how impressed he was by this. He likes the blues and plays them on his guitar, in the privacy of his own room, so as not to torture people's ears. And "George Takei from Star Trek. Have you seen him? The Asian guy. Lieutenant Hooro or Zulu or something. [Sulu, actually! But he never claimed to be a Trekky]. He's gay and he's posted it on his website that is being shared across the Star Trek network."
Do we need to say that he's not gay? No, of course not - despite it doing the rounds that the New York Times called him "one of the few openly gay MPs in New Zealand". (I couldn't actually find this reference but it's part of the legend of Maurice, the gay icon now ...) He is, as you'd imagine, resolutely blokily heterosexual. He has a picture of a very small and fluffy dog wearing a lavender bow in its top-knot on his desk. Its name is Waffles and he loves it and takes it for a run - "it can out-run a Lab!" - every morning. But he points out that it is his daughter's dog and that when people see him with it they say he should have an Alsatian because it would be more in keeping with his image. Not that he worries about his image, of course.
He's been around for too long to worry about what people think of him, or the dog, or his speech - which wasn't even his best speech: "Not in a million years." It was just "a four-minute leer-up!" So all the fuss is a surprise. "I mean, you're asking the wrong person! But I think if you speak from the heart ..."
What is not a surprise is that he voted for gay marriage. It is perfectly in keeping with his Libertarian views. "Correct. I've always held those views. Your rights finish where my nose starts."
He said, "I'm doing bland exceedingly well these days."
This must be why we have forgotten how funny he was. He is nostalgic for his funny days and for the days when, in the Parliament: "We used to have the most pheno-menal fun and there were late night parties and the media would come."
The good old days. But weren't they the good old days for the old boys club?
"No. There were a lot of ladies around the club! People like Ruth Richardson and Jenny Shipley."
I said, a bit faintly, because the mind does rather boggle: "Did Ruth and Jenny have a drink and party?"
"Absolutely!"
The bad old days. Bill English, when party leader, said he was "impossible to deal with".
You could say that. He caused a tremendous fuss by publicly criticising English. He was suspended from the party and looked lucky not be expelled.
He said: "Look, it's too long ago; it's over 10 years ago".
He gets on well with English now. Heavens, he gets on well now with almost everyone with the possible exception of some of the "Greens women who were pretty severe" when he hosted the Miss Universe contestants at Parliament and then, when, they sat in the gallery he brought them to the attention of the House, which is against standing orders but "they got a big round of applause". Except from the Green ladies, presumably.
Still, he was widely held to be a maverick and now he's popular! "I can't help that! And I can't retract the speech! The thing about the internet is that you can't take it away. It used to be in the old days if you did a speech and the media kept asking for a copy of your Hansard you'd just say: 'I'm not giving it to you'."
He has never exactly - to put it politely - courted media attention either. "No, I'm not known for that ... Quite the opposite. I'm often on the grumpy side. They ignore me and I ignore them."
He has at times been extraordinarily unpopular. "Ha, ha. You might say that. I couldn't possibly re-emphasise it. I think it was Abraham Lincoln who said: 'The best way in politics to be unpopular is to try and please everyone."'
But he might be easier to deal with these days; his maverick tendencies might have mellowed with age. "You can't just ask someone questions like that! I don't know!" Doesn't he really? "Well, I don't think I'm that hard to deal with. Take for example staff ..." He called out to his electorate secretary: "Carla?" There was no reply. "Oh. Carla's at lunch. Carla has worked for me since the day I started, 27 years ago."
Yes, but he has never stood up at a National Party conference and said she was useless! "Um, I don't think that's a fair comment to make. I don't think I ever said that!" I was paraphrasing, wildly. "Well, that's very wild paraphrasing!"
Which would probably have got me thrown out of the office of the old Maurice but the new gay icon one is immensely affable.
Or perhaps he's always been amazingly laid-back and we just never noticed because we were fooled by the grumpy side. He was once a hippie. He says he certainly was not, because hippie is "sort of flowers in your hair" and he was into the Rolling Stones and early Led Zep. Did he smoke dope when he wasn't a hippie? "I never answer questions about my private life." Now that is a joke. He had spent quite some time telling me about he and his wife, Raewyn's, fertility problems which involved some gynaecological detail I'd have called private. (They eventually adopted Simon, and later twins, a boy and a girl.) Perhaps he'd forgotten. I said: "Smoked a lot of dope ..."
"All I can say is that I played in a heavy metal rock band in the early 70s at Auckland University. So you can go figure."
He showed me some photos of him looking fairly hippie-ish. My favourite was the one of him wearing a batik shirt and a beatific smile and far-away eyes. How absolutely amazing to think that one day that man would be a Tory MP who made a speech about gay marriage that went around the world and then, just like that, became a gay icon. If you'd predicted that, anyone would have said you were stoned out of your gourd.