High-profile coalition says new anti-protest law being bundled through Parliament without proper scrutiny.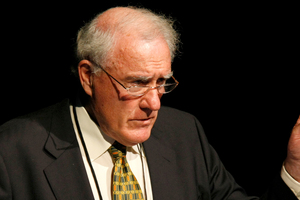 A new law change to restrict demonstrations in the deep seas has been described as taking a sledgehammer to peaceful protest by a coalition of high-profile lawyers, unionists, environmentalists and a former Prime Minister.
A joint statement will be released today "in defence of the right to peaceful protest at sea", signed by Greenpeace and other environmental groups, as well as individuals including Sir Geoffrey Palmer, Dame Anne Salmond and Peter Williams QC. Energy Minister Simon Bridges tabled an amendment to the Crown Minerals Bill last week which would allow the Defence Force to arrest and detain anti-mining protesters outside of New Zealand's 12-mile territorial limit, and would introduce heavy penalties of up to $100,000 in fines or a year in prison for illegal protests.
The amendments would not be subject to the usual scrutiny such as public submissions to a select committee or vetting by the Attorney-General for Bill of Rights breaches.
Sir Geoffrey said he signed the statement because of his concern about rushed law-making which threatened the environment, in particular the Crown Minerals Bill and reforms to the Resource Management Act.
"It seems to me there's a certain pattern turning up here of rapid legislation that has been ill-considered.
"The Government has been very reluctant to pass legislation that is contrary to the Bill of Rights over the years. To escape it is not desirable."
Sir Geoffrey has previous experience with international maritime law, having led a United Nations inquiry into a Gaza-bound protest flotilla which ended in a deadly raid by Israeli armed forces in 2010.
The coalition's statement said: "Simon Bridges' new law is a sledgehammer designed to attack peaceful protest at sea. It is being bundled through Parliament without proper scrutiny despite its significant constitutional, democratic and human rights implications."
It said New Zealand had a "rich history" of protesting at sea: "The boats that set sail to stop French nuclear testing led to a proud legacy that defines us, and our country."
The group sought a legal opinion, which found that the amended Crown Minerals Bill would not be compatible with international law.
The opinion by lawyer Duncan Currie argued that the International Maritime Organisation recognised peaceful protest as a human right, and that a proposed 500m exclusion zone around vessels was unlawful.
It also suggested Cabinet guidelines should be amended to require Bill of Rights vetting on Supplementary Order Papers such as Mr Bridges'.
The statement was also signed by Maori leader Rikirangi Gage, whose eastern Bay of Plenty iwi Te Whanua a Apanui organised a protest flotilla against Brazilian giant Petrobras in the Raukumara Basin last year.
Mr Bridges said this morning that the coalition had found a legal opinion to back its political opinions.
He said companies which had gone through a legal process to gain oil and gas exploration permits had a right not to be interfered with or have their vessels damaged.
"We are trying to stop criminal damage and unlawful interference, not protest."
He said the argument that the law change went against New Zealand's proud history of protest was false because it only applied to oil and gas exploration - not to anti-nuclear or other protests.
The Green Party described the amendment as the "Petrobras law" because it was putting the rights of overseas multinationals above the human rights of New Zealanders.
Mr Bridges confirmed that just one ship - the Petrobras-chartered Orient Express - had been interfered with in New Zealand waters.
"There has been that sole instance, I accept that, but the fact of the matter is ... why can't they go about their legal business without their rights being interfered with?"
"[Petrobras] had to stop what they were doing, that's very expensive, they had to change their course. It was a dangerous, reckless set of circumstances."
Labour energy spokeswoman Moana Mackey said that if the law change was about safety, it would apply to all vessels which operated recklessly in the Exclusive Economic Zone.
"The fact is, it only applies to those vessels that are protesting oil and gas exploration. It's not about safety at all."
The bill was expected to come before Parliament this week.
Asked this morning whether he would consider vetting Mr Bridges' amendment, Attorney-General Chris Finlayson said he would "have a look at it".