Those intent on disruption can be seen and heard but can't drive away business.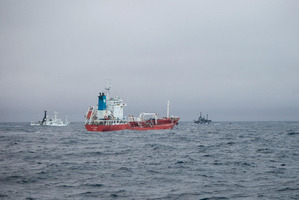 Protest is a well-established civil liberty in New Zealand with fairly obvious boundaries of lawful behaviour. But when it moves from land and harbours to the open ocean the law is less clear. The actions of Greenpeace, using inflatables to harass a ship that was carrying out exploratory surveys for oil and gas in the Raukumara Basin two years ago, exposed an inadequacy in the law.
The Government is proposing to plug the gap with a bill that will give the Defence Force, as well as police, the power to board protest boats outside the 12-mile limit and arrest and detain those on board. Those arrested could face charges carrying a prison term or a $50,000 fine for damaging or interfering with equipment or vessels, and a $10,000 fine for breaching a 500m safety zone around a ship.
It is unusual to give the Defence Force power to arrest civilians but they can already enforce fishing and customs laws outside the territorial limit and this extension of their powers need do no harm.
They are better equipped than the police to keep protest vessels under surveillance so far off shore and to be on hand if trouble starts.
Clearly something has to be done, both for the safety of all concerned and for the national interest in attracting mineral exploration of the vast undersea continent that comprises much of our exclusive economic zone. Deep sea soundings must be difficult enough to do in southern ocean swells without deliberate disruption to consider.
Brazil's energy company Petrobras withdrew its ship from New Zealand at the end of last year, citing insufficient signs of oil or gas in the Raukumara Basin off the East Coast. Neither the company nor the Government blamed the sea-borne protests staged by Greenpeace with the support of an East Cape iwi, Te Whanau a Apanui, but they were a disorderly intrusion that did this country no credit.
Those who oppose mining offshore or anywhere have legal avenues available. Greenpeace and the iwi tried and failed to convince a High Court judge to quash Petrobras' exploration permit. They could have appealed but preferred to take to the water.
They no doubt find some inspiration from disruptive tactics against Japanese whaling in the southern ocean and, going back a bit, New Zealanders' flotillas against French nuclear tests in the Pacific. But sooner or later a protester could be seriously injured and sympathisers in their cause would be the first to ask why the Defence Force did not intervene.
The proposed legislation provides them, or the police if they are on hand, with the power to do so. As late amendments to the bill, the punitive powers will not face public submissions to a select committee of Parliament and since they will apply outside the territorial limit, they need not be reconciled with the Bill of Rights Act. It is not clear why the Government is avoiding those tests. Its proposals would probably pass them.
There appears to be no need for urgency. New onshore mining techniques such as fracking of shale rock have added greatly to world supplies of gas and oil and there was little interest in the latest permits offered for offshore exploration around New Zealand. But we need to be ready as soon as interest returns.
If Maori and environmental protests are going to greet every survey ship, the law needs to be prepared. The provisions of the bill will allow objectors to be seen and heard on the sea but not to drive away those who can provide the knowledge and resources we need.