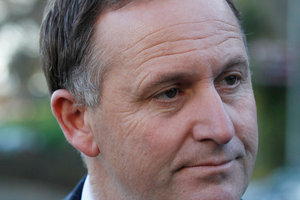 Prime Minister John Key is warning anyone considering crossing the ditch to live in Australia to be aware that their rights there may be limited.
"I say to New Zealanders that think about crossing the Tasman, make sure you understand and you go there with your eyes open about what your rights and opportunities are," he said yesterday.
The reality was they might not get the rights they thought they would enjoy.
New Zealanders are allowed to live and work indefinitely in the country, but arrivals since 2001 without permanent residency or citizenship are denied support payments including the dole, access to student loans and most recently, will include no access to the national disability insurance scheme due to begin in July.
Labour foreign affairs spokesman, Phil Goff, who was Foreign Minister when John Howard's Coalition Government introduced the restrictions, has been campaigning to get rid of what he sees as creating permanent second-class citizens.
Mr Key made the comments at his post cabinet press conference after announcing a visit to Queenstown later this week of Australian Prime Minister Julia Gillard for annual talks.
He said he expected the issue of how New Zealanders are treated in Australia to be raised again, as it had been for several years.
But it was up to Australia to determine its policy.
"We wouldn't take our riding instructions from the Australian Government of how Australians should be treated in New Zealand any more than we are going to dictate terms to the Australian Prime Minister of how New Zealanders should be treated in Australia.
He also confirmed there would be no attempt by New Zealand to place reciprocal limits on entitlements of Australian residents in New Zealand.
"There is clearly a difference. The reality is in New Zealand we accept Australians and on terms which see them enjoy essentially residency and citizenship under almost uniform conditions."
Australia would need to think those issues. For example if the children of New Zealanders who had lived in Australia for a long time were not allowed to access a student loan, that child might not end up in tertiary education.
"In New Zealand, we want to encourage people to get tertiary qualified because we know that leads to better financial outcomes for them and the country."
In the end countries have to think through their own policies but it is not for us to dictate that.
Australia had overridden its own rules from time to time as was evidenced with state assistance to victims of Queensland floods.
"It's certainly for me to make sure as best I can that New Zealanders are aware that while they have freedom of movement across the Tasman that it is not freedom of the right to become a permanent resident and ultimately a citizen of Australia.
Arrivals from New Zealand are granted a non-protected special category visa. About 240,000 arrived between 2001 and June 2011 and Griffith University estimated that about 40 per cent may have been eligible for permanent residency that was once virtually guaranteed.