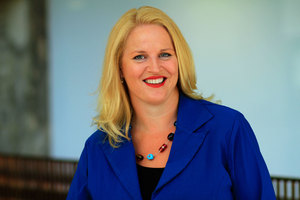 The National Party's new chief whip says most people have little understanding of how difficult the role is.
The National Caucus elected Taupo MP Louise Upston as its senior whip yesterday to replace the new minister outside cabinet, Michael Woodhouse.
Ms Upston said she had always planned to move into the senior whip role but was surprised by how quickly she'd been promoted to the position.
She felt few people appreciated the workload required of a party whip.
"I think to some people, it looks easier than it is at times.
"I often describe it to people as being the team manager. You have to make sure the team knows where they've got to be, when they've got to be there, what they need to do when they're there, and make sure that any of the distractions are taken care of so they can play a great game."
The Taupo MP noted that the role had been a stepping stone to ministerial positions for previous MPs, but she would not reveal whether she had her eye on a specific portfolio.
Ms Upston, a former project manager, wanted to become an MP since age 10. She won the Taupo seat in 2008 and doubled her majority when re-elected in 2011.
She would have the support of a new junior whip, Hamilton West MP Tim Macindoe, and also a newly-created third whip, Botany MP Jami-Lee Ross.
The Renumeration Authority decided last year that parties with more than 45 MPs could get funding for a third whip.
Mr McIndoe gained some attention during the alcohol reforms when he tabled an amendment to raise the purchase age to 20 for both off and on-licences. The amendment was voted down.
Mr Ross entered Parliament in a by-election in March 2011 after Pansy Wong stood down. He was re-elected in the general election later that year.
The Cabinet reshuffle created new vacancies for the chairperson position of the Justice and Electoral Parliamentary select committee and the Education and Science committee.
List MP Cam Calder was deputy chair of the justice committee. Kaikoura MP Colin King was deputy chair of the education committee, though some believed first-term MP Simon O'Connor could take the position.