Hone Harawira says his arrest at a housing demonstration gives him a chance to continue his housing battle.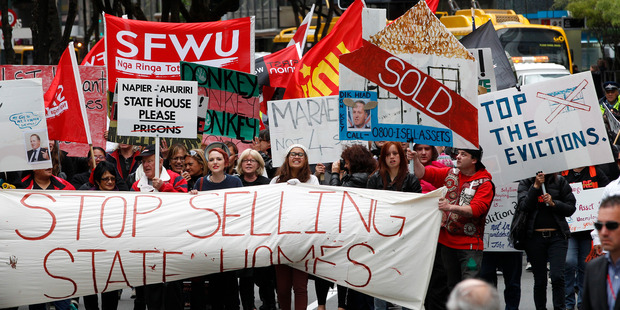 Hone Harawira has vowed to fight for better public housing at every court appearance he makes over his arrest at a protest last month.
The Mana Party leader was met with cheers of support as he recounted his arrest to about 100 housing protesters who marched on Parliament yesterday.
The protesters, from as far away as Auckland and Napier, want the Government to deal with a public housing crisis which they say is being deepened by the closure of Housing New Zealand properties in Glen Innes in Auckland, Pomare in Lower Hutt and Maraenui in Napier.
Mr Harawira, arrested after allegedly refusing to move his car during a protest over the Glen Innes closures, vowed to use the publicity to fight for better housing - "not just in Glen Innes but right around the country, every single time I go to court".
He said housing was not privilege but a right, and Mana would aim to build 20,000 new state homes in three years.
Veteran protester John Minto said the Government's housing policies were "absolutely appalling".
Labour MP Annette King said the nation had 3358 vacant state houses while people lived in cars, overcrowded houses and on the streets.
In Maraenui, there were 274 vacant houses but people on waiting lists could not get into them.
"When I visited there, they were demolishing houses - houses that they had just painted and they had just carpeted. They are demolishing houses for no reason," she said.
"We are now seeing evictions, we are seeing destruction, we are seeing empty houses."
Mrs King said many state houses were cold, damp and in a poor state but little was being done.
Green MP Holly Walker said housing vacancies and demolitions were tearing apart communities and disrupting families.
"And what is worst about this is that there are no plans to replace those homes with affordable social housing."
Only 20 per cent of houses being demolished in Pomare would be replaced with such housing.
- APNZ