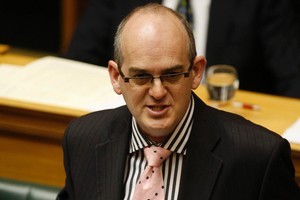 Paying overnight staff to sleep will cost more than $500 million over three years and changing the law may be considered, Health Minister Tony Ryall says.
The Court of Appeal yesterday upheld an earlier Employment Court decision against an IHC provider, which had opposed paying for sleep-over hours. Instead of a shift allowance of about $30, staff would get at least the minimum hourly wage.
The Government put IHC subsidiaries Idea Services and Timata Hou into statutory management last October at their request because they were concerned they would not be able to continue to operate. At the time the companies said they faced a $176 million liability.
Labour has said a funding increase was needed to support care providers and that's what the party would do in government.
Mr Ryall questioned where the money would come from. He said for the health budget the cost of the decision included $350m in backpay and an ongoing $50m a year.
"So you are looking at a $500m price tag over the next three years in health alone. On top of that we've received advice it will have an impact elsewhere."
He said the education budget could face a $57m bill for backpay and $9m a year ongoing costs, according to officials advice about overnight stays at school camps or in residential educational facilities.
"There are very significant implications that we are working through. The Government's number one priority is to make sure that the people who are being cared for and their families know there will be a quality service for them."
Asked if legislation was an option, he said: "Certainly if you read the judgement of the Court of Appeal they say that the New Zealand wage legislation is antiquated and is based on 1945 lifestyle of people working nine to five.
"We are going to be considering all that advice."
He said unions should consider the impact the decision would have on providers.
"I can't speculate on what the Government may or may not do because we're considering these matters, and it would be quite wrong, if an appeal is one of our options, for us to even speculate on that."
Marion Blake, chief executive of Platform, a network of mental health and addiction organisations, said that providers would be among those potentially facing millions of dollars of back pay liability.
"Sleepover rosters have been standard in mental health and addiction services in New Zealand for decades, so the liability for the sector could be very significant."
She said providers had been told the problem was theirs to handle but government departments required sleepover staff in contracts.
The Service and Food Workers Union (SFWU) and the Public Service Association (PSA), who represent disability support workers, have welcomed the decision.
PSA national secretary Richard Wagstaff said the Government had been underfunding the disability support sector for years.
"It's time for the Government to step up to its responsibilities and fund the providers so they can pay their staff a legal living wage," he said.
- NZPA