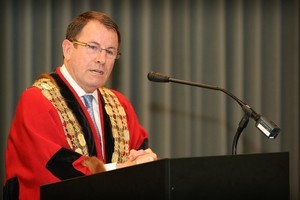 CLAIM
John Banks: I am probably the only mayor in Auckland to have contained rates within council's rate of inflation every year I have been in office.
FACT
It is true that after inheriting a big-spending budget from the previous council, Banks has pegged back rates to within the council's rate of inflation. Rates have risen 5.1 per cent, 2 per cent and 1.9 per cent during this term. What Banks is less vocal about is that while he has phased out "water price-gouging" - his words - taking water profits from Metrowater for council spending, he has still benefited from profits of $23.1 million and $12.1 million in his first two budgets, inherited $90 million a year in extra income from the previous council and increased council debt from $322 million to $867 million. He also voted to raise $12 million in bus lane and parking fines over this term to hold down rates.
CLAIM
Len Brown: Delivered the lowest average rates in the Auckland region without huge borrowings.
FACT
The Brown camp maintains that Manukau has the lowest overall rates and water charges of $1845 in the region, compared to $2447 under John Banks' Auckland City council. The 2007 local government rates inquiry said comparing average residential rates in Auckland was a "difficult exercise" as separate water and wastewater charges complicated the issue. For the 2006-2007 financial year, the inquiry found Auckland City had the highest rates of $2294, considerably more than Manukau City ($1787) and Waitakere ($1581). Figures compiled by the Herald show Manukau City Council and Manukau Water's combined debt has risen from $395 million to $583 million this term.
CLAIM
Len Brown: Rates bills will increase by no more than the rate of inflation during my first term as mayor (election promise, 2007).
FACT
Rates have increased by 4.9 per cent, 4.8 per cent and 3.9 per cent this term, inclusive of Government-imposed contributions to regional amenities, according to council figures.
CLAIM
John Banks: Manukau ratepayers are subsidising Manukau water prices with an interest-free loan. Last year the hidden subsidy was $27 million.
FACT
In Brown's first year, water prices rose 6.8 per cent and the wastewater uniform charge rose 14 per cent. Water and wastewater prices have not increased in the past two years. Council chief executive Leigh Auton says ratepayers are not subsidising water charges. He says Manukau Water was set up with $115 million of debt (now $133 million) on which it is charged interest. Rather than creating additional equity, the council set up a tax efficient structure known as "interest on demand debt". This interest on demand debt was never intended to be interest-bearing, and never has had interest demanded by the council.
Mr Auton said Manukau Water has similar interest charges to Auckland City's Metrowater water company, but Manukau Water has lower water prices. Metrowater charges $1.81 per 1000 litres of water, including a uniform charge component. Manukau Water charges $1.31.
CLAIM
John Banks: According to Statistics New Zealand, Manukau City Council overspent its operating budget by $74 million last year, turning a predicted $28 million surplus into a $46 million deficit "which has to be borrowed".
FACT
Mr Auton was unable to give a clear answer. He said the Statistics methodology was different to the council's accrual accounting, which showed an audited surplus of $11.1 million. "Manukau budgets are set prudently for the circumstances of the Manukau community and its assets," Mr Auton said.