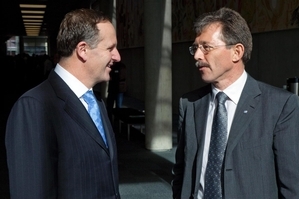 The Government's Cheerleader-In-Chief will be on hallowed ground at this weekend's National Party annual conference at Auckland's SkyCity convention centre.
John Key will bask in the approval of the party faithful who believe that on current political poll showings National will romp back into power at next year's general election.
It will undoubtedly pass Key by. But after a week spent in China, he might care to reflect on just how well the National Party really stacks up when it comes to vigorous displays of on-the-ground democracy in action.
Even the bland and rather homogeneous jamborees the Chinese leaders orchestrate to affirm their in-house succession choices and the next five years don't look that far removed from what is promised by the agenda for this weekend's conference.
National is rapidly morphing into a party that has lost its appetite for full-blooded policy debate. Instead it defers to the inclination by its Politburo (led by the singularly unimpressive party president Peter Goodfellow) for mere stage-management.
This does not bode well for a party that was founded more than seven decades ago on the principles of personal freedom, individual responsibility, a competitive economy and support for families and communities.
National will play to the cameras today with opening addresses from Goodfellow, Auckland Council mayoral contender and former National Cabinet Minister John Banks, and, of course, Key himself.
Delegates will get a chance to put some key economic ministers through their paces at National's growth agenda forum, and in subsequent presentations by Social Development Minister Paula Bennett on welfare reform and Education Minister Anne Tolley on higher standards.
These are unlikely to be contentious: Finance Minister Bill English is already borrowing a further $1 billion to meet the funding deficit for the next round of tax cuts; a taskforce is probing welfare issues and national standards have been set for education.
Delegates will be happy that election policy promises are being delivered on.
Conference booklets were not available until registration this morning. But material leaked to National Party-aligned blogger Cameron Slater suggested that just one remit would be debated from the conference floor. In effect upholding the present law requiring the purchaser of alcohol to be 18 years or over - but wanting the law enforced more effectively.
Any other issues that carry a whiff of controversy have been shunted off for debate in "closed policy forums" rather than from the floor of the conference.
This trend is not new.
But what is absurd is the plan to consign currently contentious issues like the environment and conservation, Waitangi Treaty and police and prisons to closed sessions.
Basically this means the muzzle will be applied to shutdown any lingering concerns over policies dealing with the emissions-trading scheme and mining on the conservation estate. And the foreshore and seabed and New Zealand's burgeoning imprisonment rate which are also a consequence of hardline National policies. This latter policy should be openly debated.
Three weeks ago, English told the Herald's Mood of the Boardroom breakfast that the Corrections vote would soon be the single biggest budget expenditure. In large part, this is the inevitable upshot of an imprisonment rate that is the second highest in the developed world.
English warned then that the Budget shortfall could expand under more punitive justice measures. "Every time you ask for harsher penalties, that shortfall gets bigger. You are part of the driver of the costs. Lock another person up that's a further $90,000 [a year] plus a further $250,000 capital [spending]."
Yet Corrections Minister Judith Collins trumpets an estimated $1.2 billion economic impact for Auckland from building the new Wiri prison.
National obviously needs to openly rethink its hardline policies. Following the current path sets us on the road to national bankruptcy (pun intended).
Or else find some other cheaper, overseas island nation to house the expanding prison base, or float a permanently floating container ship.
The stage management for this weekend's conference even extended to isolating a list of "suitable candidates" from the North Island that could be interviewed for an anticipatory piece on TV3's The Nation programme.
For many years - even in the much-maligned Sir Robert Muldoon's time - National Party annual conferences were spirited affairs. There was an obvious bustle as delegates - many of whom had worked hard to get regional backing for policy remits - tried to persuade fellow delegates of the wisdom of their policy suggestions.
Debate was often vociferous. Delegates were engaged. But today's National Party's organisational leaders appear as if they are frightened of their own shadows.