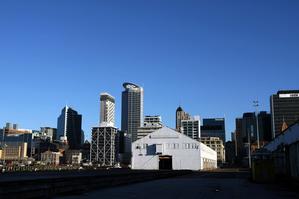 The venue for next year's World Cup "Party Central" may need to be changed after the Auckland Regional Council's about-face on plans for Auckland's Queens Wharf, Prime Minister John Key says.
Mr Key, who is in China, said he was frustrated by the latest development.
The ARC yesterday voted in favour of transforming one of two 98-year-old cargo sheds into the World Cup fan-hub and also a cruise ship terminal.
The sheds were scheduled to be demolished and replaced with a temporary glass and steel structure - the option favoured by the Government.
He said he was open to looking for another site in Auckland where a temporary structure could be erected.
The Government originally bought Queens Wharf with a cruise ship terminal in mind and while that had fallen over, he hoped eventually that the site could be used for that.
"That said, we've never been a great supporter of keeping those sheds. It would be a substantial cost and we actually don't think they have any great particular beauty.
So what I'm going to do when I get back to New Zealand is start having a look at what other alternatives are available."
He said the Government would look at possible options for a Party Central base, but he could not in good conscience put an "enormous amount" of ratepayer or taxpayer dollars toward something without a "long term strategic plan".
"I can't see how those sheds fit into a long term cruise ship terminal."
Mr Key said he was not angry about the Auckland decision but was frustrated and said he did not see where the council would get the money from to restore the shed.
"So, really I've got no other alternative but to say if we can't make this current structure work, and we've done everything we can to try to make that happen, including trying to be flexible, putting up cash, let's see if there's another alternative."
He did not think it would affect planning for the cup as putting up a temporary structure somewhere else was a "pretty simple exercise".
However, a spokesman for World Cup Minister Mr McCully said the Government had not begun looking for alternative venues.
Both ARC chairman Mike Lee and Mr McCully said in April they couldn't imagine retaining the sheds which Mr Lee described as "old, cheap and nasty".
But after the New Zealand Historic Places Trust became involved and pushed to save the sheds, the ARC changed its tune.
nzherald.co.nz called Mr Lee just before he was due to get on a flight to China. He said his council's concern was a cruise ship terminal on Queens Wharf - not a party for the Rugby World Cup.
"Our concern is getting a cruise ship terminal. If we are going to have 'party central' there - fine. If we're going to have it somewhere else - fine.
"We've opened up Queens Wharf to the public so all Aucklanders and visitors can come down there now, but we want to get on with it because we can't leave the sheds in that condition. We have to get on and upgrade it for a cruise ship terminal and an events centre."
Mr Lee said he did not want to talk about "party central".
"I don't want to get into a debate, all the stuff is on record just read it up and we'll leave it at that, I've got to go," Mr Lee said.
The ARC chairman is heading to China on holiday and said yesterday that he would try and meet up with Mr Key during his holiday.
Since Mr Key announced plans for party central in June last year, his vision of "a mass public opening ceremony and the magnet for fans who can't be at games" has been a planning and political shambles.
Government's plans 'turning to custard'
Labour's Rugby World Cup spokesman, Trevor Mallard, said it was obvious two weeks ago that the plans for Queen's Wharf were getting bogged down, but it appeared none of the responsible ministers was on the job.
"I know from my own dealings with the waterfront stadium debate that these things in Auckland are often neither simple nor smooth."
The party's Auckland spokesman Phil Twyford described the Government's plans as "turning to custard".
"We have a Rugby World Cup Minister, a Minister of Infrastructure, a Minister of Transport and a Prime Minister - three of them are Auckland MPs and none of them can get it right," Mr Twyford said.
"Is someone going to take charge before all the foreign guests arrive and New Zealand makes a fool of itself on the international stage?" Mr Twyford asked.
He said a "truckload of public money is being spent" and New Zealand's international reputation is on the line.
"This needs careful negotiation to come up with a deal that sticks. Murray McCully's threatening and dictatorial approach hasn't helped matters," Mr Twyford said, referring to a letter from Mr McCully made public yesterday.
In the letter to ARC chairman Mike Lee, Mr McCully said senior ministers remained committed to building the temporary structure and saw no merit in redeveloping Shed 10 where it was.
"We also see considerable risk in embarking on a restoration of Shed 10, with the attendant risks of cost escalation and timetable blowout."
Mr McCully gave the ARC an ultimatum. Either restore Shed 10 off-site or on another part of Queens Wharf, or buy the Government's $20 million half-share of the purchase price of the wharf and take full responsibility for all the building, landscape and other costs to prepare the wharf in time for the Cup.
He also demanded the ARC provide an undertaking from Auckland mayors to reverse an earlier decision that no permanent development proceed on Queens Wharf before the Super City comes into being.
Mr McCully's demands for moving Shed 10 are not acceptable to the regional council; nor does it have the money to buy out the Government and pay all the redevelopment costs.
In a statement issued after the council meeting, Mr McCully, who is in Tonga, said he was comfortable with the ARC exploring options for moving and protecting Shed 10 at its cost but insisted nothing would put at risk facilities for the Cup.
Last night, Mr Lee said Mr McCully misunderstood the ARC position, which was to not move Shed 10. It was built on piles and could fall through the wharf if an attempt was made to move it, he said.
"Moving Shed 10 is his idea. If anything is going to be moveable, it is the temporary building. That would be more logical," Mr Lee said.
Councillor Joel Cayford said the ARC needed to work with the "devil more on the side with this than the minister", a reference to the Auckland City Council, which has $24 million set aside for restoring the two cargo sheds.
Auckland City Mayor John Banks said his position on the restoration of Queens Wharf had not changed, but he did not want to get involved at this stage.
"The future of Queens Wharf is in the hands of the owners, the Government and the Auckland Regional Council," he said.
Mr Lee expects to hold talks on the Queens Wharf project with Mr Key when they both attend New Zealand Day at the Shanghai Expo in China tomorrow.
JOHN KEY'S NIGHTMARE
"This will be party central"
- John Key, June 2009
November 2009
Design competition canned for lacking 'wow' factor
February 2010
$100 million new cruise ship terminal rejected by Auckland mayors
April 2010
$9.6 million temporary alternative unveiled - dubbed the 'slug'
July 2010
Political impasse over the 'slug' and heritage options
THE COST
Building
Temporary structure - $9.6m
Shed 10 upgrade - $17.8m
Landscaping/wharf strengthening
Temporary structure - $9.8m
Shed 10 upgrade - $9.8m
Total
Temporary structure - $19.4m
Shed 10 upgrade - $27.6m
- with NZPA