Is the new Tom Clancy game worthy of the name? Chris Schulz investigates.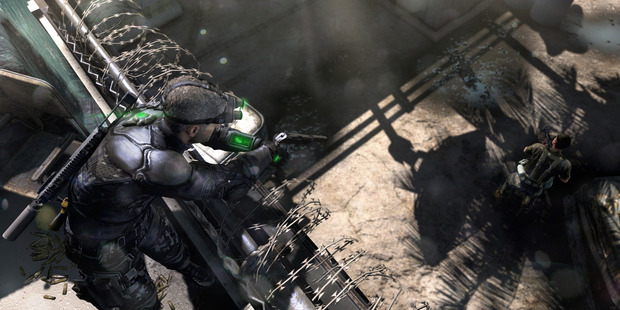 If you're thinking, "Please no, not another Tom Clancy game", no one could blame you.
Since 1998, there have been over 40 titles bearing the Patriot Games' author's name, ranging from the brilliant (2005's Splinter Cell: Chaos Theory is considered a near classic) to the boring (EndWar's a snoozefest on the PSP) and occasionally controversial (North Korea got a little heated over its depiction in 2004's Ghost Recon 2).
If you can get past the name, and its chequered history, Splinter Cell: Blacklist contains some of the best Clancy-inspired espionage thrills and spills yet. It's once again centred around super spy Sam Fisher (voiced excellently by Eric Johnson) and a crack team of special agents, the Fourth Echelon, who are tasked with taking down a terrorist group called The Engineers.
Comprising main story missions with optional sideshows, Blacklist may be an over-the-shoulder shooter - but it isn't a game you want to go into with all guns blazing.
Gamers are rewarded for engaging stealth options much more than they are for leaving a trail of bullet-ridden bodies behind them. Sneaking around in the shadows, hiding behind burned-out cars and taking out enemies from behind is an art-form here.
And whether you're creeping around the cluttered alleyways of Benghazi, breaking into the concrete bunker that is Guantanamo Bay, or quietly taking out terrorists in darkened embassy buildings in Tehran, it's one you'll want to quickly master.
There are other nice touches here: The Killing in Motion option, which allows Fisher to tag enemies for quick, efficient takedowns; the ability to move above enemies using crawl spaces and ledges; and customising Fisher with a multitude of weapons to experiment with (my tip is to learn to use the Sticky Noisemaker for distraction purposes as soon as you can).
It all helps make Blacklist a taut, clinical and effective stealth-action adventure - and that's exactly what a Tom Clancy game should be.
Stars: 4/5
Platform: PS3
Rated: MA 15+
Follow @nzherald_ent on Twitter for all the latest entertainment news.
- TimeOut