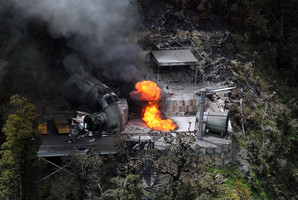 Prime Minister John Key says New Zealanders can expect a sobering report into the explosion that killed 29 men at Pike River mine today.
The Royal Commission's report into the 2010 tragedy will be considered by Cabinet this morning before being publicly released this afternoon.
Key told TVNZ's Breakfast today the work done by those on the commission had been thorough, and it contained recommendations the Government will adopt.
"The aim has got to be to say, how do we ensure that this doesn't happen again? And there are some real learnings to come out of this."
Among the changes called for by families is reinstating check inspectors underground in mines, and unions having more say about safety regulations.
The report coincides with the arrival in Greymouth of a team of mining experts.
Dr David Creedy and Bob Stevenson from Britain and Dave Feickert from Wanganui will spend five days in the town to go through the commission's findings and review plans to recover the bodies of the 29 miners still underground.
Feickert hoped the evidence in the report would help with the plan by providing detail about risks such as the extent of the rockfall inside the tunnel.
Key would not commit to funding the retrieval of the bodies, saying on Breakfast today he had not heard from any expert who believed there was a safe or credible way of retrieving the bodies.
Key was in disagreement with spokesman for the families Bernie Monk over entering the mine.
"The emotional connection for the families to get into the mine is very real, and I understand that absolutely, completely. I understand the need for closure for a lot of them."
Key said the issue with retrieving the bodies was not about cost but about safety.
Department of Labour and High Hazards Unit safety inspectors would have the sign off to say it was safe.
Key said he hadn't seen any advice on the idea of a charge of corporate manslaughter, as suggested by families.
He said there were legal options available for the miners' families.
"We are aware of the criminal proceedings that are being brought against former Pike River boss Peter Whittall and potentially other directors of the Pike River mine," he told Breakfast.
The report on what caused the explosions at the West Coast mine in November 2010 and what should be done to prevent similar tragedies in future will be presented to the families in Greymouth this afternoon by Government ministers Gerry Brownlee and Christopher Finlayson.
Key said the report would be released to families only a short time before it is publicly released.
"It would be unfair to ask them [families of the miners] to sit on that - and I will publicly front that," he said.