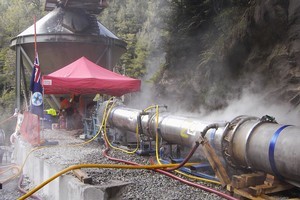 Australian underground mining experts will begin sealing part of the Pike River Mine this month in a crucial step towards reopening the tunnel following blasts that killed 29 men.
From above ground, they will pump grout down a borehole and create a seal 2.3km inside the mine, before the large underground rockfall that has blocked any recovery effort for the victims of the November 19, 2010 explosion.
Once it is in place, most of the main tunnel will be reventilated, allowing Mines Rescue to walk some distance inside.
Mine manager Steve Ellis said the special seal called Rocksil, had been brought into the country and would arrive at the mine this month.
Mr Ellis said that because methane was lighter than air the gas may rise up the borehole. A new fan has also been placed on the surface to help reventilation.
Underground footage has shown there is quite a bit of debris deep inside the tunnel, the result of the four explosions in November 2010.
Mr Ellis said he hoped to get more footage soon, but a firm date for re-entry had not been set.
In June, Mines Rescue volunteers entered the mine and installed a temporary seal 168m in. The new seal will allow the area between there and close to the rockfall to be reventilated.
- APNZ