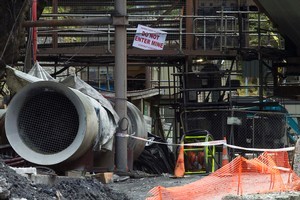 The area of Pike River being hydraulically mined is a "prime suspect" in determining what happened last November, the head of the Royal Commission of Inquiry said this morning.
The commission will resume today for another two week session, five days out from the anniversary of the first explosion, as it starts to examine what happened at Pike.
Last week, the Department of Labour laid 25 charges against Pike River, Peter Whittall and Valley Longway.
In a media briefing earlier this morning, Justice Graham Packhurst said the goaf - the void left when coal is extracted - was a prime suspect in determining what caused the first blast.
That area is often full of methane.
There was a "reasonably significant" collapse there in October, 2010, he said, about a month before the explosion.
"There's a focus on hydro mining because it's a difficult mining technique."
The commission was also interested in how the goaf was ventilated, and potentially explosive methane drawn out.
If the goaf did collapse on November 19, the methane would have to have hit an ignition source to explode.
The commission opens today with Department of Labour inspector Michael Firmin.
Later in the week, a DoL commissioned reported which largely exonerated the department, called Gunningham and Neal, will be scrutinised by witness Kathleen Callaghan from the University of Auckland.
Justice Panckhurst said she was critical of aspects of the report.
David Stewart, a mining consultant with Minserv, who audited Pike River in 2010, about six months before the blast, will also give evidence.
Former Pike River employees Stephen Wylie and George Mason will talk about hydro mining, including that large October collapse.
The hearing starts at 11.30am.

- APNZ