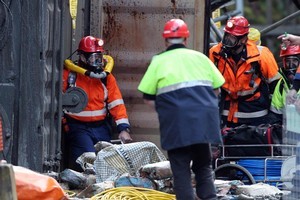 The bodies of 29 men could have been recovered if police and the Department of Labour had heeded mines rescue advice to seal the Pike River mine, an inquiry has heard.
New Zealand Mines Rescue general manager Trevor Watts is giving evidence to a Royal Commission of Inquiry into the deaths of 29 men in the Pike River mine.
He said mines rescue personnel based at Pike River proposed sealing the mine on November 21 - two days after the first explosion on November 19.
They were determined by then that none of the men still inside the mine had survived.
Their plan was rebuffed by off-site police and Department of Labour who believed people could still be alive inside the mine.
"No decision was made about sealing the mine despite recommendations from MRS to do so.
The delay and lack of decision in this regard... was damaging," said Mr Watts.
Mines rescue again recommended immediate work to seal the mine after all hope for survivors was ruled out by a devastating second explosion on November 24.
Mr Watts said that proposal was not approved by the Department of Labour and it was another four days before work to seal the mine began.
In that time the mine was damaged further by explosions.
Sealing the mine earlier would have allowed bodies to be recovered, Mr Watts said.
Important evidence on what caused the explosion could have been gathered and the mine may have been saved for future mining, he said.
"After the second explosion it should have been a simple decision to block the air going into the mine and stop further explosions
"The decision needed to be made urgently."
Mr Watts said the external decision making processes put in place at Pike River resulted in a sense of "operational paralysis".
He said Pike River Coal statutory mine manager Doug White should have been the incident controller and decisions should have been made by mines experts at the mine site.
Having to refer decisions to off-site controllers in police national headquarters and the Department of Labour created delays, he said.
"There was a complete lack of urgency to make decisions, particularly after the second explosion."
Mr Watts made an emotional commitment to the families of the Pike River dead that his men would bring back the bodies of their loved ones.
It was hard to articulate the anguish mines rescuers had felt at not being able to enter the mine, he said.
"To a man, every one of our members is totally committed to bringing home as many of those men as possible and we will do whatever we can to assist the mine owner in a recovery operation. We firmly believe it is going to happen. I firmly believe personally that in time the top part of that mine will be entered. Where the men are. We will... assist where we can to get some closure for the families of the men who are still in the mine today."
Families call for Government takeover
Meanwhile, families of the Pike River dead are backing a Labour Party call for Government to take responsibility for recovering the bodies of their loved ones.
The Royal Commission of Inquiry yesterday heard statutory mine manager Steve Ellis rejected a New Zealand Mines Rescue-approved plan to re-enter the mine.
Mr Ellis claimed the reconnaissance mission was too risky, saying: "What if somebody falls over? What if somebody breaks their mask? What if within 12 seconds they're a cabbage?"
That raised the ire of Pike River families who have endured a 10-month wait for a recovery operation.
Their spokesman Bernie Monk told Radio New Zealand mines rescue were trained for dangerous operations.
Families feared receivers were holding off the recovery operation in order to have the mine ready for sale by Christmas, he said.
"Every time we just about get something done all of a sudden they've got something to put in our way.
"Are they holding things up deliberately to have sold by Christmas 'cos they said they'll be down there by Christmas and then they said to me in the same breath that they'd have the mine sold by Christmas.
"So are they holding things up?"
West Coast Labour MP Damian O'Connor yesterday called on Government to assure families it would commit to funding a recovery.
Mr Monk said Government had a duty to recover the bodies of 29 men, including his son Michael Monk, from the mine.
"They said... once the mine was safe, they'd help us. And that's what we're asking now."
Mr O'Connor said families were suffering without any firm assurance their loved ones would be returned to them.
"Families need some reassurance that someone will pay for this.
"While the Royal Commission continues its exposure of the horrific event families are having to endure the agonising reminder of the tragedy without any tangible hope of recovery."
- APNZ