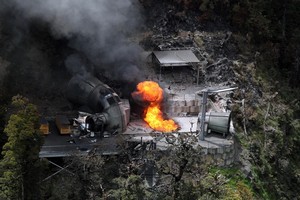 Police command structures slowed the rescue or recovery of the 29 men who died inside the Pike River mine, an Australian gas monitoring expert says.
Darren Brady, of Safety in Mines Testing and Research Station (Simtars) in Queensland, is giving evidence to the Royal Commission of Inquiry into the Pike River disaster.
He was "surprised" to find police in charge of the rescue and recovery operation after being flown to the Pike River mine site, as that would not have happened in Queensland.
Having to put proposals through the hierarchy of police command created delays and sparked "frustration" among those at the mine, he said.
In one example, he was asked to explain a gas reading to someone in charge of decision making who did not understand it.
"Why was a person who was not knowledgeable of gas samples making decisions about them?"
Meetings between the many agencies operating at Pike River wasted time and many agencies were overrepresented, Mr Brady said.
He said a limited number of people with knowledge about mine safety and rescue should have been in charge of key decisions.
Those people should have been stationed at the Pike River mine site, he said.
Royal commissioner Stewart Bell yesterday said he was "surprised" at police refusal to transfer incident control at Pike River from Superintendent Gary Knowles to one of the "many" local mining experts available.
"How much time was wasted... training police officers... in mining matters when you could have had someone there from the word go that understood the terminology from the word go."
Assistant police commissioner Grant Nicholls earlier told the inquiry police had to take control when they arrived at the mine site after the first explosion on November 19.
"Order had to be brought to a very chaotic situation. So this was a period where decisive action had to be taken."
Other agencies, including New Zealand Mines Rescue, would be consulted before establishing a command structure to respond to any future mine disaster, Mr Nicholls said.