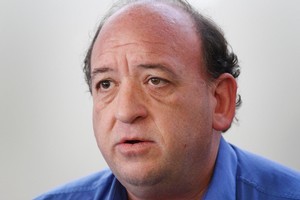 Praise was heaped on him for his leadership following the deaths of 29 workers at Pike River mine.
But that goodwill was brushed aside as mine boss Peter Whittall faced a barrage of criticism - some of it personally directed - at a royal commission of inquiry delving into what happened last November.
The first two-week phase of the inquiry which concluded yesterday was supposed to be about providing context to the fatal mine explosion. Yet it became a forum for alleged safety shortcomings at the mine to be aired.
Mr Whittall - who had been Pike River Coal's chief executive for about six weeks before the mine explosion - defended his operation on the stand over three days at the inquiry. He told the Weekend Herald, after completing his evidence yesterday, he felt a duty to represent his team.
"I don't stand up there feeling guilty. I stand up there feeling ... I'm part of a tragedy and I've got a role to play in getting to the truth of it," Mr Whittall said.
"If that means that myself or any other individuals are found wanting then I will understand that.
"But at this stage, I don't feel that any of my staff have let me down, and I don't feel I have let my workforce or the company down."
Mr Whittall said he wanted, like everyone else, to know what happened. He believes the gas that ignited the explosion likely came from a waste area where coal was being extracted in the mine.
"I have no theory at this stage as to what actually then caused the ignition of that gas - what caused the explosion."
The criticisms in the inquiry have ranged from inadequate escape routes, to insufficient methods to deal with dangerous gases, to lack of understanding of the geology, to unrealistic financial targets that could have impacted on safety.
Sometimes Mr Whittall had to answer criticisms by saying it was an issue he did not personally deal with.
That was not good enough for the mine victims' families, with spokesman Bernie Monk saying: "I felt some of the blame was going into other areas. I'm in charge of a business - if something goes wrong I'm the person that gets in the firing line."
Despite the obvious tensions, a tired-looking Mr Whittall said he was still getting greetings and hugs from family members of the dead men.
"People understand this is a trying time for everyone. Up until today I'm still feeling very comfortable and relaxed in Greymouth. I don't feel any animosity at all in the royal commission hearing. I didn't feel I was being personally attacked."
But Mr Whittall admitted to being "taken aback" at a submission by his company's major shareholder that it had lost confidence in him prior to his appointment as CEO.
He told the inquiry the view expressed by former New Zealand Oil and Gas chief executive David Salisbury was the opposite of what was said in personal discussions.
Mr Monk said a lot more information had been made public than the families had expected.
Police will present scans from inside the mine to the families today as work continues to try to stabilise the first sections of the mine.
The next inquiry hearing phase, focused on the search and rescue operations after the explosion, will be held in September.
Pike River this week
Monday: Royal commission of inquiry told New Zealand had no approved codes of practice for underground mining.
Tuesday: Department of Labour confirmed it had only one staff member to check the safety of mines.
Wednesday: Pike River mine boss Peter Whittall said he was surprised to learn his company's major shareholder had lost confidence in him in the months before the disaster.
Thursday: Inquiry told a 2009 audit found a vital mine escape route would have been extremely difficult to use in an emergency, and virtually impossible in a fire.