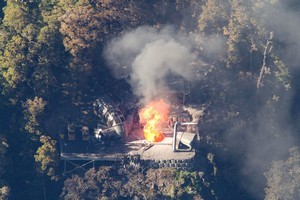 The Pike River Coal mine company took 51 minutes to contact emergency services and initially had no idea how many men were inside when a series of explosions tore through the West Coast mine, killing 29 men, it was reported today.
The Pike River contractors and suppliers group has revealed the information in the lead up to the Royal Commission of Inquiry into the disaster, which ripped apart the West Coast community on November 19 last year.
The men's bodies are still entombed in the mine.
The contractors are owed $5 million by Pike River Coal and will file court action this week to have the company wound up.
They said the company took 51 minutes to contact emergency services and initially had no idea how many men were in the mine, Radio New Zealand reported today.
The group's spokesman Gerry Morris said gaps in records resulted in some of the men's families not being contacted until 14 hours after the first blast.
He also said Mines Rescue was denied entry to the mine but did send a bucket with torches and a radio in the hours after the first explosion.
The contractors' revelations come after Prime Minister John Key admitted to an Australian newspaper this week that the Pike River mine would have been illegal by Australian standards.
Mr Key previously said he had he had no reason to doubt New Zealand's standards.
Although Mr Key told the newspaper he was not in a position to "give a full response" on mining safety until after the inquiry, he said "we do have to ask the question" about safety standards.
"We have taken an interim review of our mines to check for safety but long term, there'll need to be other changes, I suspect," he said.
When questioned by media here, Mr Key said he was not saying New Zealand's mining standards were lower than those across the Tasman.
"I'm saying they are different from Australia, the way the mine was consented in New Zealand is likely to be legal, but that's a matter for the Royal Commission of Inquiry to look at, it's not for me to pre-judge what they might find," he said.
"From a construction perspective, that mine would not be consented in Australia and was consented in New Zealand.
An audit by two Australian mining experts, issued last month, found two New Zealand mines were not fully compliant with health and safety regulations, but found no evidence of imminent danger at any of the four mines investigated.
Pike River Coal placed itself in receivership weeks after the November 19 explosion, effectively freezing payments. Liquidation, or winding up, is akin to commercial bankruptcy.
As unsecured creditors, the contractors and suppliers are at the bottom of the pile for payment.
Pike River contractors and suppliers group spokesman Peter Haddock told the Greymouth Star they had been powerless and out of pocket since November, and liquidation was the only way they could effectively take control of the situation to recoup their unpaid bills.
Many of the contractors were struggling financially since the disaster, and some had already gone to the wall.
Court action was being taken as a last resort after pursuing all options with the receiver, PricewaterhouseCoopers, and Pike River's secured creditors, which included the BNZ and Pike's parent company NZ Oil and Gas.
The receiver has since advertised internationally to sell the newly developed mine, which has untouched coal reserves estimated at $6 billion.
- NZPA