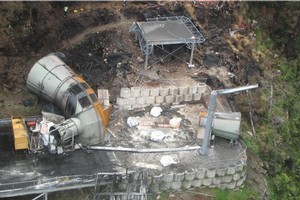 Receivers are playing down recovery hopes at Pike River, saying it's possible the bodies of 29 men will never leave the West Coast mine.
Families of the Pike River dead claimed police, Mines Rescue staff and the mine receivers had agreed to a recovery operation after a meeting in Christchurch yesterday.
Stabilisation work was set to begin in the mine tunnel entrance on Monday.
It was seen as the first step in a plan to get into the heart of the coal mine and retrieve the workers who died in a series of explosions last November.
But receiver Malcolm Hollis today told Radio New Zealand it would be "difficult, time consuming and expensive" for mines rescuers to get past a rock fall to recover bodies even if the mine was stable.
It was possible the dead miners would never be recovered, he said.
"That is an unfortunate possible outcome. It's certainly not what anyone would desire."
Mr Hollis said receivers had agreed to feasibility studies on a number options for entering the main mine area.
But receivers expected to sell the mine to a local or overseas company by the end of the year and any recovery would likely be left to the new owners, he said.
"The miners are up behind a rockfall at the top of the tunnel... It's just not possible to go past that in the short term. "Getting into the main workings of the mine is extremely technically difficult."
Prime Minister John Key told TV3's Firstline the Government was happy to pay for a recovery operation.
But it would need to be satisfied the operation was feasible and safe for recovery workers, he said.
"We've spent $11 million so far so it has never been about cost ... it is an issue of safety.
"It has to have a pretty good chance of success."
"I understand absolutely how those families feel about wanting to get into that mine. But ... we can't put more lives unduly at risk."
Families spokesman Bernie Monk last night confirmed stabilisation work would start on the seam in the main portal next Monday, eventually moving to the rockfall, so the mine would be safe to re-enter.
"At least it's a start," Mr Monk said. "I think having everyone around the table today has brought everything out into the open."
It could take until the end of July to get to the rockfall, he said.
He was confident at least some of the bodies would be found. "I expect to see some of the bodies are still intact - their clothing and stuff like that."
Mines Rescue did not know how much it would cost to stage the re-entry but discussions on that would begin today, Mr Monk said.
It was expected a study to determine the best method of moving deep into the mine would alone cost hundreds of thousands.
The victims' families had been looking to the Government after it became apparent the receivers had no plan for recovering the bodies.
Mr Monk, whose son Michael died in the mine, said yesterday's pledge had been a long time coming.
"It's a big step to get our guys home. If my son comes out ... I'll be rapt. But I'm aiming for all of the families' loved ones to come back."

Recent footage from inside the mine appears to show two intact bodies.
Neville Rockhouse - whose son Ben died in the mine, while his other son Daniel survived - said he felt vindicated in his efforts to show that no body-recovery plan existed.
"I see [yesterday] as a very positive outcome, and it's the first step in a process to go on and get the Pike 29 home. And that's what we are fundamentally all about here: bringing our guys home. They need to come home."
Police, who have always said funding is not an issue in any body recovery, warn that the mine is currently still too unstable to enter.
"People have been working very hard to stabilise that environment," said Assistant Commissioner Grant Nicholls.
"Our understanding is that there should be some progress on that in June. And the next logical step is that feasibility study."
Mr Monk said he was confident the Government would eventually back the plan. "The receivers are really only there to sell the mine; they are not there to get our guys out."
The lawyer for the victims' families, Nicholas Davidson QC, said yesterday's meeting was called because it had become apparent no real progress was being made in recovering the bodies.
When police handed over responsibility at the mine to the receivers, there was an expectation recovery efforts would continue.

Mr Davidson hoped the Government would help with funding.
"We just don't think it's possible for this country ... to leave these men behind. We just do not see this country accepting that."
A way had to be found no matter what the cost, and funding sources would be pursued.
Nigel Hampton QC, representing the Engineering, Printing and Manufacturing Union, said getting back into the mine was important not just to recover the bodies, but also for gathering evidence on what had happened for a royal commission, and getting Pike River working again.
A spokesman for Prime Minister John Key say he had not been told of any plan to re-enter the mine.
"The Government has always wanted to give closure to the families and ensure that recovery takes place, bearing in mind safety considerations."
Grey District Mayor Tony Kokshoorn said the good news of the planned re-entry was tempered by the complexity of the task.
"It's going to take time. I couldn't see anything closer than six months until they start getting into the mine proper. Getting through each stage, ventilating it, then breaking through the rock wall, will take quite a while.
"We'll get there eventually, step by step."