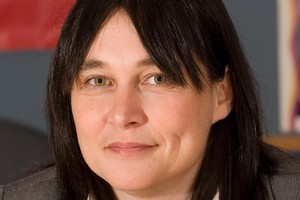 The Pike River mining disaster being cited by a union boss as an example of an anti-worker culture is "churlish", says the Prime Minister.
Council of Trade Unions president Helen Kelly told the Labour Party Congress yesterday that Pike River had "failed in its fundamental duty to provide a safe workplace" yet was initially protected from scrutiny by the state.
She noted how John Key had sat next to Pike River's chief executive during the memorial service.
Mr Key said last night that Ms Kelly was being "churlish" - and dangerous, too, considering that a Royal Commission of Inquiry was ongoing.
"For Helen Kelly to make those comments until we know what actually happened in that mine is inappropriate in my view. It's getting in the way of the royal commission."
The memorial had been a time for everyone to grieve rather than to apportion blame, Mr Key said.
"That day may well come, depending on the results of the royal commission, but it wasn't appropriate at the time when we held a memorial service."
The Government took the deaths of 29 New Zealanders seriously and intended to get to the bottom of what had happened at Pike River, Mr Key said.
Pike River chairman John Dow said he could not comment yet on the union boss' "political" accusations about the company being spared the hard questions.
He said he would return to New Zealand tonight, from Bali, and would be happy to speak on the matter if he received authorisation to comment from the receivers.
Receiver John Fisk said Ms Kelly's accusations were more for an academic to answer.
In particular, her view that shareholders should be held accountable in the case of accidents ran contrary to the fundamental tenets of company law.
Ms Kelly said in her speech that workers and employers had been given unequal standing in the political and public arena.
Workers should feel lucky just to have a job - that was the overarching narrative in the media and the National Party's politics, she said.
"Until the worker that causes a fuss to demand safety becomes a hero - rather than an ungrateful beneficiary - people will continue to die."
Workers and employers were engaged in exchanges that should be seen as no different from those between shoppers and retailers - but, instead, workers were expected to doff their hats and act as supplicants to their employers, Ms Kelly said.
At Pike River, the company was portrayed as a hero that provided jobs to the West Coast - and then as a victim that was "protected by all the powers of the state from scrutiny in the first few weeks".
Its shareholders would now walk away "scot-free" without having to account for the deaths and debt, she said.
During the Hobbit saga, Warner Bros was similarly held to be unimpeachable because it was offering jobs, Ms Kelly said.
"We were told they should be treated with absolute deference for this wonderful charitable act."
Finally, Ms Kelly recalled a TV3 report which had said that McDonald's workers seeking a minimum wage increase "were prepared to bite the hand that feeds them".
"This narrative of deference to business, and the refusal to acknowledge the value that workers bring to the workplace, lies at the heart of attacks on work rights."