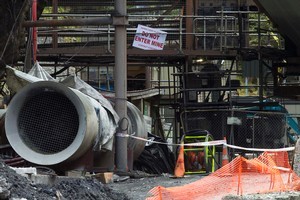 A second body has been spotted in footage taken from the scene of the Pike River mine disaster, families say.
But police say while they are "highly suspicious" a figure in the footage is a body, it is impossible to confirm without months of work.
Bernie Monk, spokesman for families of the 29 men who died at Pike River, said a body was found after reviewing footage from a camera lowered down a borehole into the explosion-hit mine.
It would be the second suspected body found at the mine.
Police last month confirmed a forensic pathologist was "very highly suspicious" he had detected a fully clothed person lying face down in the mine while reviewing footage taken in February.
The latest discovery strengthens families' resolve to campaign for mines rescue teams to retrieve their loved ones, Mr Monk says.
"It means they're not incinerated. They're there waiting for us to go get them."
The second body was found beside an opened equipment box, which had contained emergency equipment, away from where the first body was found, Mr Monk said.
Little detail was visible, but he was confident it was a man's body, he said.
He called for authorities to meet with families to discuss options for entering the mine.
"The families are more determined than ever. We need mines rescue, maybe police and Government to sit round the table with us. The families are getting quite hostile and angry that nothing's being done.
"We want them to sit round the round table. We want to know what else there is available to us."
Police Assistant Commissioner Grant Nicholls confirmed the shape from the borehole footage looked like a body.
But the image was poor quality and police would need to conduct two to three months of electronic enhancement to confirm the find, he said.
"That image, in the vicinity of the three boxes, shows something that could be a body or possibly a number of things."
Mr Nicholls said Pike River was still unsafe to enter and finding bodies inside did not change that.
"While clarification of the images may help the investigation it is our understanding that under present conditions the mine is unsafe to enter."