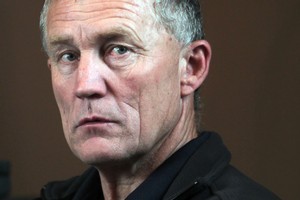 The Pike River Coal mine is likely to remain unsafe to enter for some months, rather than weeks, as work continues to make it stable enough, receivers said yesterday.
Twenty-nine workers were killed at the mine near Greymouth last year after a number of explosions, which set part of the mine on fire.
It was believed the men would have been killed in the first blast and fire, but a forensic scientist has this week said a video image showed what looked like a fully-clothed body, lying face down.
Police said the footage also showed a rescue box in the mine had been opened, indicating some of the workers may have survived the first explosion on November 19.
Grey District Mayor Tony Kokshoorn had said he understood a staged re-entry into the mine could begin in three weeks.
Families' anxiety levels had "gone through the roof again", he said, after the news of the footage.
However John Fisk, of receivers PricewaterhouseCoopers, said it would be longer. The mine had not yet been completely sealed and would not be stable if oxygen was still entering, he said.
"Once that is completed and we know that most of the mine is in a state and we have sign-off from Mines Rescue that it is appropriate to attempt a re-entry, then we will look at re-entry," he said.
"But in terms of the timing, to do that, it's more like months rather than weeks and we just don't know what we might find out in the meantime which may affect any timetable."
The mine was inert but fuel-rich, he said.
"Most of the mine has a large proportion of methane in it, and the tunnel area has a large proportion of hydrogen in it, so at this stage you couldn't actually function in there without breathing apparatus."
There was also heat at the top of the tunnel, which could cause an explosion if oxygen and methane mixed.
News of footage from the mine did not add to pressure on the receivers, who could not allow anyone to enter the mine until it was stable, he said.
"It's just a process that we need to go through, and we're just not in a position to let someone go in there tomorrow without a serious risk of another life being lost."
Mr Kokshoorn was also trying to broker a deal between the receivers and state-owned miner Solid Energy to buy the mine.
Solid Energy has an underground mine near Pike River, and last month repeated its interest in the Pike River coal mine but raised questions about the difficulty in extracting it.
"Solid Energy know the geography of the Coast, they've got good, experienced people, and have said publicly that if they get the licence they'll give it their best shot to get the men out - they've got the cashflow to do it," Mr Kokshoorn said.
"[Mr Fisk] agreed for me to approach Solid Energy and try and broker a deal."
Mr Fisk said he would be happy to attend a meeting and would have an open mind about the possibility of a deal with Solid Energy.
NZ Oil and Gas, 29.4 per cent shareholder in the Pike River Coal company which developed the mine, said yesterday that there were potential purchasers other than state-owned Solid Energy.
A royal commission of inquiry into the deadly blast has been delayed by seven weeks and will now start on July 11 to allow the parties more time to prepare.
- NZPA