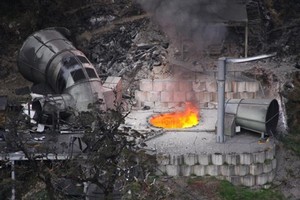 Receivers for Pike River Coal have asked the Government to help cover a multi-million dollar legal and wage bill it is expected to run up during the Royal Commission of Inquiry into the disaster which took place at its mine last November.
Stacey Shortall, the lawyer representing the mine owners - which is now in receivership - yesterday said the company did not have the financial resources to fully participate in the inquiry into the explosion which killed 29 miners at Pike River.
It could not provide witness briefs, compilations of documents and other requirements ahead of its directors and staff giving evidence, she said.
Pike River Coal receiver John Fisk said his team had now written to Attorney-General Chris Finlayson asking for Government assistance.
He said the duty of receivers to repay Pike River Coal's secured creditors was coming into conflict with paying for the extensive demands by the Royal Commission.
"The legal advice we have is that if we actually took a full part in preparing witness evidence and other materials, we could be talking in the millions of dollars of costs," he said.
"Our primary responsibility is to repay the secured creditors who employed us. This is where receivership laws end up grating against what a Royal Commission can achieve. It's a unique situation."
While most Government assistance would be going towards legal fees, wages for company employees such as chief executive Peter Whittall was an ongoing cost, said Mr Fisk.
Mr Whittall and other employees had been working for months to provide information about the company to the Royal Commission, he said.
He was concerned employees would be lost without Government help to pay them.
"The worst case scenario is that we end up in a situation where Pike River has no employees at all. We can hold them here against their will. Their assistance would be lost."
Receivers had been working to find funding for legal costs for "weeks" but it had only been made public at the inquiry yesterday, Mr Fisk said.
He acknowledged there could be concern about taxpayers contributing to funding for the company, but said it was necessary to determine the cause of the explosion at Pike River.
"We weren't involved in the incident in November.
"We certainly as receivers don't have anything to hide. We're not here to do any sort of cover up or anything like that. The company is in possession of information that would be useful to the commission. If they're not able to help then we'll have to consider other ways of dealing with the issue."
Bernie Monk, spokesman for the families, said it was "disappointing" to hear the company was short of funds.
Grey District Mayor Tony Kokshoorn questioned why it had taken until the first day of the inquiry for the company to say it could not raise enough money.
"It's saying you have to drag it out of us and we're going to make it awkward."
He said he was very disappointed by the company's stance and called on it to participate fully and provide all the information it could to the inquiry.
"I felt that they should have been transparent and open and available to actually give all the evidence that was required.
"To actually get up there and say `well, we haven't got any money, what are you going to do about it?' is not a good look for them," he said.
He was hopeful the company would review its stance and find a way to fully cooperate with the commission.