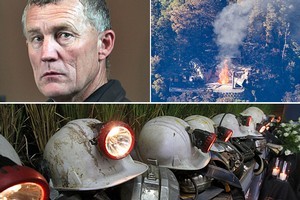 Our world changed on the West Coast when we were told 29 of our sons were never coming out of the Pike River mine alive. I said then it was our darkest day. That second explosion didn't just end our hope for survivors - it ripped a hole in our families, our community and our economy. On November 24 last year, we felt broken.
For many the brokenness of those first moments would have been their lasting image of this place. Tragedies elsewhere - life going on - turned their attention away from the West Coast. Today, as Prince William comes to compassionately and generously visit our families, many of those eyes will back towards us for a while. They will see a place where hope is on its way back.
Nearly every waking moment of these last four months has been spent rebuilding and repairing. This is a robust community. Even at our lowest we knew at the end of the day we had to live on, to go forward. So we got alongside each other.
We had done it before - after the Strongman mine exploded in 1967, when the Cave Creek platform collapsed in 1995 - and it was second nature. We told those families they were not grieving alone. There were always people to offer a listening ear or a hot meal.
New Zealand stood with us shoulder to shoulder. Thousands and thousands opened up their wallets to help out. When the Pike River Relief Fund closed last month, it had raised $8.4 million. I know I speak for the families when I say we're truly grateful. The money is going towards getting this community back on its feet. And I hope one day we'll be able to return the favour to places like Christchurch.
That depends on our economy. There is no denying it has taken a hit. We've always been built on the bedrock of the minerals industry. That has been shaken. There are 180 jobs paying $90,000 gone. You can't replace those overnight. Still, I've got to take heart. We're not where we were 10 years ago, when it felt like our towns were stagnating. Mining is still our jewel in the crown. It's going to keep booming with global demand for fuels on the rise. Farming and tourism will keep growing. I know a lot of regions that would love to have those three industries underpinning them.
What happened at Pike River is something our families still go through every day. Even if it's just a belt buckle, they want something of their sons back. But I know however hard these last few months have been, they haven't been broken. Nor has the West Coast. We've been overwhelmed by generosity from around New Zealand. Our community has pulled together. Our economy is going to be rebuilt. And as I'm writing, a prince is about to arrive in town to support the families of the Pike 29.
So when I said November 24 was our darkest day, I meant it. Our world changed forever. And I know right now there are people in Christchurch and in Japan who are feeling exactly the same way I did. But I want to tell you we are matching the families stride for stride. There is always sunshine after rain.