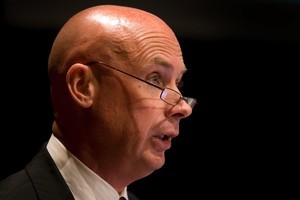 State-owned coal miner Solid Energy says it is the only miner in the world capable of successfully mining the Piker River coal seam on the West Coast as receivers look to sell the mine.
Receivers Pricewaterhouse Coopers took over the mine from police this week, nearly four months after 29 workers were entombed when an explosion ripped through the newly-developed underground mine, high in the Paparoa Range, about 50km northeast of Greymouth.
There had been about a dozen expressions of interest for the mine since it was handed over.
Solid Energy chief executive Don Elder told the Greymouth Star it was imperative the asset remained in the control of New Zealanders, who knew what they were doing in the "challenging" West Coast environment.
"Our great concern is that the resource will end up in the hands of an overseas company that has great aspirations but lacks the knowledge, expertise and understanding to get it right."
Solid Energy, which had 110 years' experience on the coast, believed any foreign owner of the mine would struggle to make a go of it.
"Our big fear is that, if Pike ends up in foreign hands, three to four years down the road there will have been a lot of big talk, big money and big machinery and in the end, big disappointment," Dr Elder said
If Solid Energy did gain control of Pike River the operation would revert to the pre-feasibility stage.
The plan was to combine open-cast and underground mining methods, but Dr Elder said the families of the 29 victims would be consulted before any mining plan was put together.
Grey District Mayor Tony Kokshoorn welcomed the news, saying the decision facing the receivers was a "no brainer" to choose an experienced and respected miner with vast expertise on the West Coast.
Mr Kokshoorn called for a quick sale so the receivers could then settle Pike River Coal's outstanding accounts with contractors and unsecured creditors, totalling about $5.5 million.
- NZPA