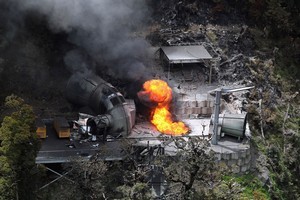 A plan to send a robot into Greymouth's Pike River Coal mine again has been put on hold following Christchurch's devastating 6.3 earthquake.
Police say they have 76 bodies in a temporary morgue following Tuesday's earthquake, with numbers expected to rise.
The robot, from Western Australia, was to be sent into the mine this week to assess damage and investigate the possibility of recovering the remains of the 29 men, killed in an explosion on November 19.
But New Zealand Mines Rescue manager Trevor Watts today told NZPA a Western Australian team, who were on their way to Greymouth to support the robot operation, had been redirected to Christchurch.
The group had specialist camera equipment which could help the quake rescue effort, he said.
The Pike River recovery operation would continue, despite delays with the robot, and there were plans to bore another hole into the mine to gather more information, he said.
Mr Watts, who was in a meeting at Pike River when he heard news of the quake, said his rescue staff were ready to go to Christchurch if needed.
There was some cross-over of skills between earthquake and mine rescue work, but building work was a specialist field.
"Trying to analyse and determine stability of a building is completely different to determining the stability of an underground mine," he told NZPA.
Like Pike River, safety of the rescue workers had to be paramount.
"They'll be faced with some pretty horrendous situations to go into...It's quite hard to comprehend the level of destruction and the massive rescue and recovery effort that's going to have to take place."
Complex problems, such as the looming collapse of the Hotel Grand Chancellor building, made recovery even more difficult and dangerous.
He urged rescue workers in Christchurch to make sure they got the support they needed.
"Because at the end of the day, we're not robots, we're human beings. These people need to call on their support networks," he said.
Police's initial decision to call off a rescue operation at the Canterbury TV building, where people were trapped and dead, brought back memories of the agonising decision not to enter Pike River mine because it was too dangerous.
"The people on the ground that make those types of decisions, they are the tops in their fields. These guys know what they're doing. Those decisions are not made lightly," he said.
Before the quake struck, the mine's receiver PricewaterhouseCoopers had planned for the robot to enter the mine this week.
Receiver John Fisk earlier told NZPA the robot would hopefully provide images of the mine's interior, reveal the extent of the damage, and give an indication of how much of the mine was accessible.
And Greymouth Mayor Tony Kokshoorn earlier said sending a robot into the mine would be a big step forward.
- NZPA