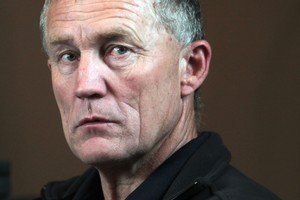 Sending a robot into Pike River Coal mine again will be a "big step forward" in the possible recovery of the trapped men's bodies, Greymouth Mayor Tony Kokshoorn says.
An explosion in the West Coast mine on November 19 claimed the lives of 29 men and left grieving families with a myriad of unanswered questions.
The mine's receiver PricewaterhouseCoopers today confirmed a robot, from Western Australia, will try to re-enter the mine this week.
Receiver John Fisk told NZPA he hoped the robot would provide images of the mine's interior, reveal the extent of the damage, and give an indication of how much of the mine was accessible.
Mr Kokshoorn said the robot would provide the recovery team with a good idea of what they were up against.
"Any eyes, albeit a robot eye, going into that mine will start unravelling the equation here, of how to get into it (the mine)...So that's just a big step forward from my point of view," he told NZPA.
The failure of earlier efforts to send robots, including two army robots, into Pike River mine did not put him off.
"Up until now we've tried to look 2.3k down a shaft and 160m down holes without much success.
"Now at least, a robot getting in there will start telling them exactly where they've got to go to from here."
Mr Kokshoorn said the Australian robot was a "grunty machine" which would do a good job.
"When you think about it, why not? If the mine is inert, why not send a robot down there and start looking around?"
"I accept that it will take time, but it's progress," he said.
However, he was realistic about the possibility of cave-ins and machinery blocking the robot's path.
"The best possible outcome here with the robot is that it can keep advancing, that there's no obstacles in its way that stalls progress."
The families of the 29 men were "still grieving heavily", he said.
"The bulk of the families would definitely like anything back at all...We want some closure for those families because they want to get any remains back."
When asked about the possibility of PricewaterhouseCoopers eventually pulling out of the operation, he said.
"We'll cross that bridge when we come to it. At least I'm encouraging them to come up with lateral ideas to keep it moving forward."
Mr Kokshoorn had suggested a "left field idea" of asking Pike River shareholders to agree to a rights issue to raise moneyto fund the recovery of the bodies.
"I feel as a public company you're shareholders have a moral obligation to actually see this through to a recovery if possible...and collectively we could pull this off," he said.
Mr Fisk said Mr Kokshoorn's rights issue suggestion was a good idea but a little premature at this stage.
- NZPA