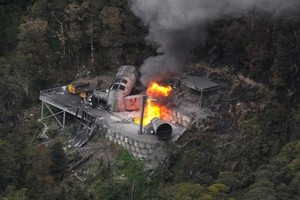 Video footage from within the Pike River Coal mine - withheld from the families of the 29 victims for a fortnight - has offered them some hope there may be bodies to recover if re-entry into the mine is possible.
The families saw the footage last night, which showed a wooden pallet without any signs of fire, a stack of stone-dust bags (similar to cement bags) untouched, and upright drums that should have been blown over.
Families spokesman Bernie Monk told the Greymouth Star the video offered hope that bodies could be recovered for burial, despite experts saying fires, raging at 3000degC, would have effectively cremated the 29 men trapped in the mine following the first explosion on November 19 at the West Coast mine.
On January 10 police showed families a small segment of footage showing a rockfall and other signs of damage before the missing segment was shown last night.
Police said the new footage was well away from the areas the men were believed to be working but offered the families no explanation for withholding it.
"It's just another example of the poor communication that we keep going on about," Mr Monk said.
He was at pains to point out that communication was the only problem the families had with police.
He said the meeting also revealed that gas levels in the mine had dropped to a manageable level and that it was not so much gas stopping a re-entry, but the strata.
Any decisions about a recovery operation would not be made until two new bore holes were drilled and the camera footage and information from them had been assessed, he said.
- NZPA