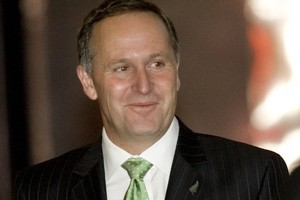 Prime Minister John Key has defended police in the wake of a damning report on the force's culture and a much criticised decision to end recovery efforts at Pike River Coal mine.
Mr Key today said police needed to make some changes but they did "a wonderful job for all New Zealanders".
The culture report, prepared for the State Services Commission by PricewaterhouseCoopers and released two days ago, said the culture within the force seemed to have reached a plateau and urgent action was needed to fully implement recommendations from the 2007 Commission of Inquiry into police conduct.
The inquiry related to the way police had dealt with allegations of sexual assault by members and associates of the police.
"Well I think we've got to take a step back and acknowledged that while there are issues that need to be addressed... I think the police do a wonderful job for all New Zealanders and have made a lot of progress in some of the areas that have been highlighted," he told Radio New Zealand today.
Police Deputy Commissioner Rob Pope yesterday announced his retirement, saying he made his decision to leave the police several weeks ago.
Mr Key said Mr Pope did not resign because of the report.
"Rob Pope has for some time been considering whether he would do another five years... like a lot of people they get to a point in their career where they think they've made the full contribution they can make," he said.
Commissioner Howard Broad is also stepping down from his role and will be replaced by Peter Marshall in April.
Mr Key said he thought Mr Marshall would do a good job targeting inappropriate behaviour in "certain pockets" of the police.
"I think Howard Broad himself actually has made a lot of progress, I think it would be unfair to say that there hasn't been a significant cultural change in the police force."
Mr Broad, Police Association president Greg O'Connor and Police Minister Judith Collins yesterday said the report focused on negatives aspects of police culture and could damage police morale.
"I wouldn't like to see police moral damaged as a result of this report because what I see from the New Zealand police force is a very committed bunch of men and women that do a good job of upholding law and order in our society," Mr Key said.
He also defended the police operation at Pike River coal mine, saying the decision to seal the mine was the right one.
"We support the decision that the Police Commissioner has made and we are fronting up, I've been the first to answer questions about why they've made the decision that they've made," he said.
The bodies of 29 miners and contractors remain trapped in the West Coast mine after a series of explosions from November 19.
"For some of the families there's obviously deep frustration that their loved ones cannot be removed at this time and we all wish for them that that was possible but it's a very complex situation, it's a very dangerous situation," Mr Key said.
"The information that we have is it's too dangerous to enter the mine and it's likely to be too dangerous at any time for the seeable future at least."
Mr Key said it was far too early to say what happened at the mine.
"The Royal Commission needs to get up and running but we've only very recently got to a point where the police can say that they don't believe they can undertake a recovery operation," he said.
"We've also got to acknowledge it might be quite some time before the Royal Commission is able to report back.
"We all want answers but we've got to make sure we get the right answers."
- NZPA