Psychologist Grant Amos has strategies to help people for whom flying means being paralysed with fear.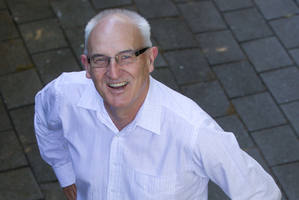 I've only once felt a fear of flying. We were four passengers and a pilot in an ageing Britten-Norman Islander - like a Holden station wagon with wings; you closed your own door, as I recall - on a flight between Rarotonga and Aitutaki.
The entire trip took place in thick cloud, and at one point I was utterly seized by the clear, irrational certainty that a 747 was going to emerge from the gloom and vaporise all of us.
So I felt no sense of smug superiority when I spent an evening at one of Grant Amos' Flying Without Fear courses.
I've known the unshakeable conviction of impending disaster, but the five women and one man who walked along the corridor above the flight simulators and gathered in a nondescript training room at Auckland Airport know it far better than me.
It had come to rule their lives.
I was surprised to find that none of them has ever been completely earthbound. They are not among the 10 per cent of the population that, as Grant tells me, "will not fly and do not fly". In fact they are veterans of, on average, 82 flights. But they are sick of the toll it's taking.
"I once flew into Napier in rough weather at night," Wayne, 41, told me. "And that was me. I hired a car and drove back."
Flying from then on was a "slow-creeping, self-perpetuating nightmare", Wayne said.
"I would have full panic. I would hold my head. I couldn't eat, drink, stand up, listen to music. I couldn't do anything. I was paralysed for the whole flight. I had nausea, vomiting. They were all symptoms that I'd created myself, but they were real."
A 38-year-old North Shore woman, who asked not to be named, told much the same story. She's actually done lots of flying, having worked in the travel industry "for a very long time" and escorted groups of travel agents to Australia and around the Pacific. But after a bad experience of turbulence, "it just kept building up and every time I flew and something happened, it just made it worse and worse".
What Amos would say - and does say and did say to her - was that "something" didn't actually happen each time. She, like most of the other 6500 clients he's had at more than 300 courses, "overemotionalise" events: rain becomes a raging storm; a delay in landing becomes a full-scale emergency.
Thus much of the first part of his course involves demystifying flight: explaining how aircraft remain improbably aloft, and what those inexplicable noises are that portend imminent disintegration at 8000m.
"He explained every single thing," said the North Shore woman. "I could ask every silly question I wanted to and I felt very comfortable being able to do that."
But, Amos says, information is not all that is needed. "If it were, I wouldn't have qualified pilots who have done the course," he says, pausing to let the significance of what he's just said sink in. "Flying is not really the problem; flying is where the chickens come home to roost. People who have been scared in some way get scarred by the scare, and every time they fly, they pick at that scar."
Stopping that picking process is the essence of stopping the fear. Amos, a registered psychologist who has done training in many areas of the aviation industry, says people react to different situations according to the stresses in their lives.
"If there's a lot of movement or whatever, some will see it as exciting; some will see it as a bit scary; and some will see it as a warning from God that they only just made it."
The process of conquering the fear of flight consists of getting control of the stressors that set the anxiety off, he says. Starting many hours before takeoff, "I get people to start to do some different things, because there is no Passenger 101 course. This is 101 remedial."
The result speaks for itself. Kathy MacFarlane, a Titirangi teacher, was enthusiastic. "What I learned was that on the plane I can have a terrible flight or I can manage myself. He gave you strategies to manage your anxiety that are effective in the rest of life, too."
Wayne agreed: "I thought it would be happy-clappy but it was pretty impressive. The biggest thing for me was realising that I'd created a monster. I'd built it, so I could knock it down."