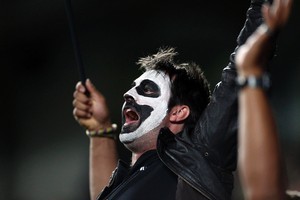 All New Zealand believes there is just one task left for the All Blacks in Sunday's Rugby World Cup final. Win the Webb Ellis Cup for the first time in 24 long years.
Granted, that's a long time to have a hangover. But I'd beg to differ. I reckon there are two jobs remaining for Graham Henry's men. Certainly, the first is actually to win the cup. New Zealand as a nation has gone through hell this last quarter of a century, watching South Africa and Australia (twice each) and England (once) win.
As a consequence, the agonising soul searching this nation seems to be enduring in the build-up to Sunday's final is a source of some wonder to the visitor. I have felt like a doctor this week, trying to dispense calm, pills and reassurance in equal measure upon fevered brows. "Take these, dear, and everything will be all right, I promise."
Every New Zealander seems to have been infected, caught up in the sense of mania surrounding this World Cup final.
If New Zealand don't win on Sunday, you just wonder how this nation will get up and go to work on Tuesday morning.
So victory over France in Sunday's final, which should actually be a relatively straightforward task, is the first thing to do. But the second is, in many ways, just as important. As Gore Vidal said: "It is not enough to succeed. Others must fail."
Eden Park, Auckland: Scene of the first World Cup final in 1987, needs to witness a great advertisement for the game. For the future of the sport and to assure its continued growth, we need to see a vibrant, fast, physically powerful but penetrative game based on attack. The purists among us want to marvel at a 15-man game played to perfection so that the winners can turn around to the watching world and say: "There you are; that's what is possible under these new laws. Now go and do the same."
New Zealand have the capacity to do all this. From Israel Dagg at fullback to Cory Jane on the wing and Conrad Smith and Ma'a Nonu in midfield, outside the surprise of the later rounds of this event, first five-eighths Aaron Cruden, New Zealand have the cutting edge to damage any opponent.
What is more, they have some supreme talents up front, like Jerome Kaino at blindside flanker - for me, the player of the tournament - to the quietly industrious Sam Whitelock and tight-head prop Owen Franks, who led in the breakdown statistics for the past two weeks - exceeding even Richie McCaw. Then there is evergreen 36-year-old lock Brad Thorn.
The message regarding quality rugby is especially relevant in the Northern Hemisphere where, with the sole exception of Wales, hardly any teams have demonstrated conclusively they are able to play a 15-man game consistently with the finesse, precision and accuracy of execution that is required.
There are, believe it or not, still some deluded souls from Northern Hemisphere rugby wandering around telling anyone prepared to listen that their rugby is still the best, still the real rugby. Call in the men in white coats.
That has been the secret of the All Blacks' success these past four years. They deserve to win this time because for most of the era since the last World Cup they have been easily the best team in the world.
And let us not forget - they lost their No 1 playmaker, Dan Carter, for the critical final phases of this tournament. You have to ask, how effective would Ireland have been without Brian O'Driscoll or Wales without Sam Warburton.
New Zealand have embraced the possibilities of the new law interpretations with aplomb and have profited handsomely from doing so.
To their credit, they have thoroughly mastered the arts of all playing patterns within the game. They can bash it with the best up front, challenging and destroying anyone physically as they did the Australians in last weekend's semifinal. But they can also play some sublime stuff, with great attacking skills and vision out wide.
Coach Graham Henry said two years ago that the All Blacks under his direction would stick to their attacking guns and play that way even amid the pressures of a World Cup. Some doubted him at the time. But you have to say, they have largely done that - and all credit to them.
If the 2011 tournament is decided in a blur of pace, movement, attack and entertainment, as well as immense forward grunt, then everyone will share New Zealand's delight.