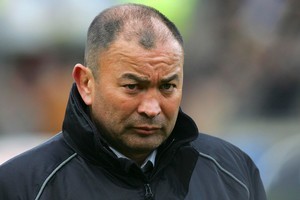 Former technical adviser says not many of the squad have improved from 2007's Rugby World Cup - but they should have.
An hour in the company of Eddie Jones and your senses feel scrambled.
It's like a complete outsider has walked into the middle of an All Black training session and tried to keep up.
The former Australian coach, now in charge of Japanese club Suntory, flew into Auckland this week for a whistle-stop visit. He'll see the Wallabies' game against Ireland tonight and be gone tomorrow morning on the Tokyo return flight.
Just enough time to catch up with a man who continues to talk the kind of good sense that made him Wallaby coach when they reached the World Cup final in 2003 and then technical adviser to the South Africans four years later when they won the trophy.
He was courted again this year by South Africa, he finally admits. They wanted to pair him with Rassie Erasmus as technical advisers but Jones turned it down. "Out of loyalty to Suntory - I couldn't justify leaving Tokyo for three months or more."
But perhaps he also rejected it because he could see likely difficulties down the road for the defending World Cup holders. Certainly, he makes no attempt to hide his dismay at the way the Springboks have gone since 2007.
"I feel sorry for them, my heart breaks for them" he says. "You look at their players - Schalk Burger and Bryan Habana are 28, Fourie du Preez 29. They should be at the peak of their powers, but they're not. Habana has dropped his pace and dropped his skill level. There are not many players in their squad who have improved from 2007, but they should have.
"Look at Dan Carter and Richie McCaw - they are better players than they were in 2007. But that hasn't happened to most of the South Africans who were there in 2007. That's disappointing for them because they should be capable of winning this World Cup.
"There are reasons, issues why they haven't progressed. I think it's really sad because they have had as much chance as any country will ever have of winning back-to-back World Cups.
"For me, Fourie du Preez is close to the best player in the world - but you can see when he is playing he is thinking so much because they haven't had the combinations and haven't had a consistent philosophy of how they wanted to play.
"So they're making it up as they go along and you can't do that in a World Cup. Now, they will need luck to win it."
But if Jones sees problems ahead for the South Africans, he also predicts considerable problems for New Zealand and Australia. Certainly in a commercial sense.
"A few years back, the Wallabies and All Blacks were playing 10 or 11 test matches in a year. Now it's 15 and you just can't go on increasing that number. There are not the population numbers in this part of the world to stand many more test matches.
"Yet both nations are already struggling to make a commercial success of their businesses."
So what to do? Jones believes salvation lies in the Northern Hemisphere. He took note of the astonishing crowds who turned up to watch the pre-World Cup warm-up games in London, Cardiff and Dublin.
These were meaningless matches yet 70,000 or more attended Cardiff and Twickenham. Ever the switched-on opportunist, Eddie Jones spies an opportunity for the game here.
"I think the IRB needs to look carefully at the game worldwide once this World Cup is over and they have to take notice of things like that. People wanted to watch rugby in August, in good weather in the Northern Hemisphere.
"What I'd do is arrange an international tournament in that part of the world in August, so that all the Southern Hemisphere teams could play up there and benefit from such support."
If that's his idea, mine, in tandem with that thought, is this. Reserve the November international window in the Northern Hemisphere for an annual, old-style Grand Slam tour by New Zealand, Australia and South Africa in alternate years. By making it a longer tour by one country, you would restore a hugely popular element of the game that has been lost in recent years.
Jones also believes some of the second-tier nations need specialised nurturing by the IRB to progress.
"The board should identify one country in Asia, Europe and the Americas for special attention, maybe based on their world rankings.
"A country like Japan badly needs to play more top teams more often. For the World Cup to get better, the IRB has to be proactive about developing a top 14 or 15 of real strength. But you need more competitive games for that to happen. Just at a World Cup every four years is not enough. You have eight good teams at the moment but no one outside that group is likely to beat them. But that's what you have got to aim for."
He will be at Eden Park tonight to see Australia versus Ireland. He has a hunch that Ireland's ageing team have "one last hurrah" in them. But enough to beat the Wallabies?
"I think Australia will probably just get home," he admits.