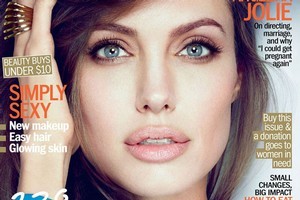 Angelina Jolie, mother of six - and counting? Hold that thought.
Jolie, 36, hits up the latest issue of Marie Claire magazine, and dishes on her relationship with Brad Pitt, as well as the prospect of expanding their brood.
Brangelina, who hooked up in 2005, raise six kids together - Maddox, 10, Pax, eight, Zahara, six, Shiloh, five, and three-year-old twins Knox and Vivienne.
"[Brad] has expanded my life in ways I never imagined," says Jolie of her bond with Pitt, 46. "We built a family. He is not just the love of my life, he is my family. I hold that very dear."
She also credits Pitt for helping her have a selfless outlook on family life.
"I suppose what I've learned from Brad is to be able to have the kind of family whose happiness and well-being comes before your own," she says in the interview. "I'm very, very grateful to have such a loving family, and I wouldn't have that without him."
She also says that their children are supportive when the busy supercouple have downtime.
"If they see Mommy and Daddy in need of some private time 'cause they're going to kiss and whatever, the kids get all giggly and happy," she says. "Because it gives them some security."
And, yes, the brood would like to see their parents get hitched.
"They have mentioned it, yes," adds Jolie. "If you take it in an emotional way, you think, Ohhh, the children! They don't feel secure enough! But then you think, now, wait a minute: They think a wedding is a party with a four-layer tiered cake!"
On whether she and Pitt are done having kids: "Nothing planned at the moment, but we just don't know," she says. "I could end up pregnant."
Let the bump watch begin (again)!
Jolie also reveals that she's a bit of a homebody, and doesn't have many female pals.
"It was nice for me to play with other girls; I don't really have girlfriends in movies, if you've noticed," she tells the mag about a recent project.
"Well, I have a few girlfriends. I just... I stay at home a lot. I don't do a lot with them, and I'm very homebound. I talk to my family, I talk to Brad... But I don't know, I don't have a lot of friends I talk to. He really is the only person I talk to."
Click on over to Marie Claire for more from the interview, folks.
- Blogger Bites Back