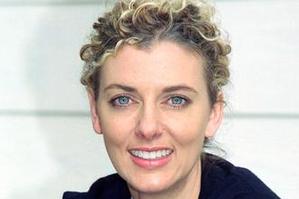 The amateur hack who bizarrely told us Simon Dallow wanted to reconcile with his estranged wife the very week her new lady love was announced, was very clearly miles off base. He never made such a claim; she never checked the facts. Fabrication may be fine and dandy for that publication, but in the real world of celebrity goss, it's not hard to find the truth when more often than not the celebrities themselves are willing to dish it to you.
Sally Ridge is no stranger to publicity. She married a league star at the height of his career, had two babies and has never stopped fawning over the fame spotlight.
While that marriage didn't last, another high-profile relationship was right around the corner. Enter Adam Parore. Eight years later with two more children and countless magazine stories under her belt, Sally has called it quits on that relationship. But is she prepared to stay mum about it and respect the sanctity of that partnership?
Most celebrities, like Mikey Havoc and Claire Chitham, cringed at the thought of their marriage break-up making the headlines in my Spy column, and I understand that. Getting over an emotional split is hard enough without an annoying journo like me ringing to find out the juice.
But Havoc and Chitham understood the nature of the celebrity beast. On the one side, they had courted it and even got paid for a story about their relationship in a women's magazine. On the other, they would be feeding the public's insatiable appetite for celebrity stories. And nothing sells a tabloid better than a celebrity marriage bust up.
Which brings me to the very topical Sally Ridge who is refusing to maintain a dignified silence.
She was only too happy to blab about her relationship woes to me with the purpose of being front-page news. We first met several weeks ago over wine at a Ponsonby bar; she brought her teenage daughter along too. Later we exchange many phone conversations and text messages.
Not happy to rely solely on Ridge's account, I interviewed many of her family and friends, and last week I told my readers that Sally had moved out of the Ponsonby home she shared with Adam and her four children and moved into Eric Watson's country mansion in Karaka with party princess Nicky Watson.
I reported that Ridge, who is facing a milestone birthday, is reliving her youth and back on the party circuit. I said that she'd been invited to the Oscars by an American billionaire she met at a bar who had taken a shine to her 16-year-old daughter - details Ridge and her daughter were only too happy to share with me. I didn't report that her eldest son was with her at that time in Karaka, as Sally had told me, because I knew that he was actually on holiday with his father in Australia.
Unfortunately when the tone of the story was not to Ridge's liking, she took actions into her own hands: she returned home (telling me via another text message) and evidently went to another publication.
Keeping up her sweet-as-apple-pie brand image is vital to Sally and she didn't want people thinking she's a bad mum living with Nicky Watson and apparently partying with her on-again, off-again Rich List beau Berridge Spencer. Ridge's image as a wholesome mother-of-four needed to be protected.
Most celebrities have agents to do their dirty work for them: pitch their stories, ring their favourite journos and snarl when the angle isn't to their liking. Ridge, in my experience, does that herself.
She has since returned home and Adam has moved out. Very clearly their relationship is over and Sally will continue to peddle her version of events to gossip mags. With a public braying for every bloody detail of the bust-up, Ridge will have justification to feed their appetite.