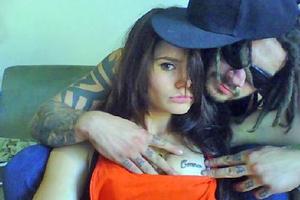 Proudly bearing her boyfriend's name inked across her left breast, Millie Elder posed for the camera with her boyfriend Connor Morris in the background. Wearing dark shades, facial growth and heavily tattooed sleeves, Morris leans forward to expose the moniker, as if declaring what's his. Sultry Elder pouts, happy to flaunt herself. The images are believed to be from a private collection on Elder's Facebook page that were leaked on the internet last week by a blogger.
Don Juan and Je Lan holiday in Queenstown, but 'not back together...yet'
New Zealand's most romantic former Reserve Bank Governor is trying to stay tight-lipped about any reconciliation with his estranged wife Je Lan after Spy's spies saw the couple on a flight from Queenstown to Auckland on Thursday. "No, we're not back together... but I'm still trying," he confessed reluctantly.
Last year, women around the country clutched their palms to their hearts when Don Juan declared his love to his estranged wife in these very pages and talked so candidly about his determination to woo her back.
The couple separated in 2007 after Brash admitted the year before that the marriage was facing difficulties. Rumours about an alleged affair with multimillionaire businesswoman Diane Foreman followed.
Last week, though, it was happy families for the pair who enjoyed a three-day holiday in Queenstown with their 16-year-old son who was thrilled to try a hair-raising bungy jump. The Don was having none of it.
Brash has two adult children from his first marriage and on the suggestion he may be a little too grey power to handle a teenager, rebuffed enthusiastically: "You may think I'm 69, but I'm only 39!" That's the spirit. Watch this space for Juan and Je updates.
The ladies are thunderstruck
Ali Mau gushed about her long-held love for heavy metal rockers AC/DC on Thursday's Breakfast show last week with co-host Tim Wilson saying she's lugged her vinyl Back in Black album around since she was ten. The album - their best-seller - came out in 1980. Mau was 15.
Meanwhile, former truck-stop waitress-turned-senior government minister, Paula Bennett, was no surprise at the concert in the Capital that night. Bennett was taking full precautions though, telling The Listener last year that she would not be wearing a chunky gold bracelet to the gig because her rock salutes are so violent that she once whacked her hand with the bling bracelet and bruised her knuckles. Nothing says cabinet minister like throwing your goats up.
Mike Puru: 'I don't want to be a poster boy for gay guys'
He confirmed the worst kept secret in media circles last week but The Edge radio co-host, Mike Puru, couldn't have picked a forum more public. He took to the airwaves (and a live videocam) on Monday to announce that he is gay.
At the time of going to print, the video had been viewed 85,426 times on the radio's website.
Puru, 34, and his retail manager boyfriend Regan Wallis, 32, have kept their relationship under wraps but were chuffed by the positive feedback they received since the announcement.
Puru is determined not to become known only for his sexual preference. "It's always been important to me to be seen as a great broadcaster who has done well, not a gay broadcaster. I don't want to be a poster boy for gay guys".
Puru, who comes from salt-of-the-earth rural Gore, where several members of his family work in the local meatworks, was most pleased to receive supportive messages from his high school chaplain at Catholic St Peter's College and the school's secretary. "It really meant a lot to me," he said.
Stephen Gray gets his revenge?
It's not what you think. Axed Good Morning presenter Stephen Gray hasn't gone postal and thwacked the man who's taken his job and set to turn the cheesy show around. TVNZ star Hadyn Jones turned up to his farewell bash - click here for pictures - on Thursday night brandishing a black eye.
When asked how he got it, he smirked: "You wanna see the other guy!" Turns out "the other guy" wasn't Gray, but an argy bargy soccer player who gave one in the eye to Jones during a game on Monday night. TVNZ colleagues thronged The Duke pub on Thursday to farewell Jones. One young lovely who called in a sickie on the Breakfast show that morning made a fast recovery and was Spy-ed posing for the cameras. Simon Dallow couldn't make it, but the big spender sent a torn $20-dollar bill to splurge on the bar.
Meanwhile, rumours that Gray will be joining the Sunrise team are not true Spy can report. "It's absolutely not happening, " said TV3 spokesperson Nicole Wood.
Not that he's miffed
When he isn't on a Hollywood set or in the kitchen making blackberry jam, erstwhile thesp Sam Neill is keeping a watchful eye over his Central Otago vineyard and those who sup the goods. Prince William is one and Neill is well pleased. He took to his blog: "Our moles in High Places tell us Two Paddocks 2007 was served at the reception for Prince William at Government House . Good choice. We are well pleased. None of us were invited however. Shame really – we scrub up quite well".