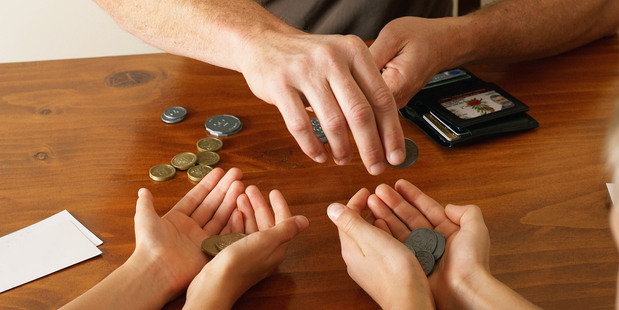 When it comes to money saving habits it was definitely my dad that led the way in our family.
He was always the one telling us kids to turn off the lights when we left the room, not to take long showers or have a bath.
Even now he is very good at grabbing specials and deals.
My mum was the saver in the family.
She always said her income was the cream that allowed us to go on family holidays or have that extra special treat.
We learn a lot about money from our parents and as Diana Clement points out this week it can also be too easy to pick up the bad habits as well as the good.
Clement has some great examples of where parents have made poor financial decisions or given financial advice to their children which their children wished they hadn't followed.
Parents naturally want to help their children out whether it is funding a university education or helping their kids get on the property ladder.
But it can become a problem when the off-spring become too reliant on bank of mum and dad.
That's especially problematic when the parents move into retirement.
Read all about Clement's tips here.
What are some good and bad money tips you learned from your parents?
What money skills do you hope to pass on to your children?
EMOTIONAL BUYING
I've never been tempted to buy a brand new car - the idea that as you drive it off the parking lot it loses 20 per cent of its value has always put me off.
But friends and family have and always talk about the upside too - warranties and extended servicing and knowing the history of the car and that it likely won't break down any time soon.
As Mary Holm notes in her column this week logic rarely enters into the decision making process when it comes to buying a new car.
Holm also touches on investing off shore and explains the reason why KiwiSaver money takes so long to get from the Inland Revenue to your account.
NEW TO THE MARKET
There's a raft of new share market listings at the moment.
Many of these initial public offers (IPOs) are giving investors access to new technology companies or industries which have never been available on the public market before.
Investment adviser Brent Sheather points out the pitfalls of IPOs and makes a good case for mum and dad investors to steer clear of them.
NEST EGG QUERIES
If you've been wondering how much you might need to save for your golden years and how to work it all out check out the questions and answers to our live chat with Malcolm Menzies from the Commission for Financial Literacy and Retirement Income here.