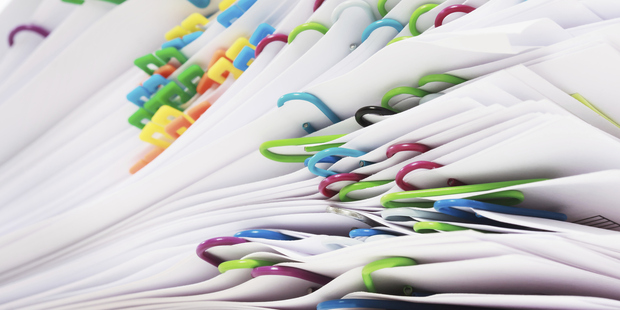 Everyone I spoke to last week was bogged down with regulation-related paperwork: dotting i's; minding p's; crossing their t's, and; whatting the f's.
This general preoccupation with the letters of the law is mostly due to the recently-enacted Financial Markets Conduct Act (FMC), which reached regulatory phase two-part two, near the end of May.
The complete third FMC 'exposure draft' runs to 237 pages but if you're in a hurry the Ministry of Business, Innovation and Employment (MOBIE) 41-page summary will have to do.
The third exposure draft relates mainly to regulations governing financial product disclosure, with the ultimate aim of ushering in a new era of clarity, consumer-awareness and simplicity.
However, as MOBIE admits, this is not an easy task.
"Given the size of the regulations, their complexity, and the many different ways in which they affect different businesses," the MOBIE document says, "we anticipate that many technical issues will emerge following the making of the regulations and their coming into force. Some issues may not be identified until issuers start preparing disclosure documents."
And while the FMC regs require full-and-frank disclosure from financial product issuers, they also contain anti-waffle provisions. Product disclosure statements (PDS) must be no longer than 30 A4 pages, or 18,000 words, in the case of debt and derivative-based investments. Equity and "complex managed investment schemes", meanwhile, have to reveal all within 60 A4 pages or 36,000 words.
No fine-print either. Format, font and font-size must be "easily readable", MOBIE insists.
But if consumers choose not to read the full 18-36,000 words, PDSs will include a couple shortcuts to understanding with the upfront Key Information Summary (KIS), and a Risk Indicator Diagram (RID) - a seven-point scale measuring investment volatility.
There is a lot to digest in the FMC regulations - a fact MOBIE has allowed for with its two-year transition period. We may end up with cleaner financial products.
Of course, there's also the danger of excessive paperwork blocking the system, which my friend Peter the Plumber complained happened to his industry after new regulations were introduced.
"Now we have to go to continuing professional development events every few months, which really turn out to be ads for suppliers, to prove we're up to date," Peter told me. "But nothing's really changed in plumbing in centuries... shit still doesn't flow uphill."