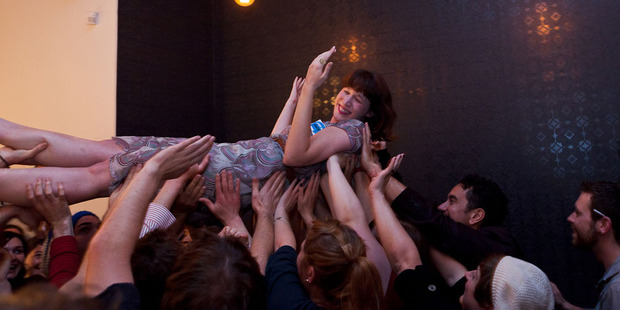 As the founders of Kiwi crowdfunding site PledgeMe prepare for a major US competitor to enter the local market, the platform is closing in on a major milestone.
Wellington-based PledgeMe is currently raising about $50,000 a week for creative projects around New Zealand.
More than 24,000 people have made pledges on the platform since it was launched in early 2012.
Co-founder Anna Guenther said PledgeMe was about to reach $1.7 million in total funding through the site and was on track to hit the $2 million mark next month.
She said her team had worked hard to foster a strong network, building links between the different creators and their backers in New Zealand.
"We've focused on it being an online community. It works because of each person's crowd. That's the main reason we've been able to do as well as we have," she said.
Members of the team had also actively promoted PledgeMe by speaking at various events, she said.
More than 400 projects have so far used the platform to raise capital, with 49 per cent of those managing to reach their funding target.
That was more than double the success rate of applying for a creative grant in New Zealand, Guenther said.
PledgeMe - which has described itself as "New Zealand's crowdfunding platform" - is about to face competition from the world's biggest crowdfunding site.
US-based Kickstarter recently announced it would soon be opening up to projects based in New Zealand.
More 4.7 million people have pledged US$767 million to about 47,000 creative projects via KickStarter since the site was founded in 2009.
Guenther, who is 27-years old and has a Masters in Entrepreneurship, is welcoming KickStarter's move into the local market.
"I think it's exciting because it will get the word out even more about crowdfunding."
But she said project creators should think carefully about whether they use KickStarter, PledgeMe or another platform such as Boosted.org.nz.
"People are going to have to make some smart decisions. If you want your crowd to be charged in New Zealand dollars then you should use PledgeMe.
"We have had feedback which shows people don't like being charged in US dollars."
Guenther said PledgeMe would also offer a more personal feel than KickStarter, something project creators should take into account.
"We're trying to provide a human aspect. If you want to have a coffee with us you can, which I don't think KickStarter will be doing."
Crowdfunding is a modern alternative to traditional funding avenues such as bank loans. It enables people to raise money through pledges from a large number of people, usually through a web-based campaign.
According to a study conducted by research firm Massolution, crowdfunding websites raised US$2.7 billion worldwide last year, an 81 per cent increase on 2011.
PledgeMe has pitched itself specifically at creative projects, such as X-Factor contestant Tom Batchelor's bid to raise $2500 to make his first solo album.
Batchelor ended up raising $2750 and those who pledged money were rewarded with various gifts, ranging from a signed copy of the EP to a free 20-minute Skype concert.

PledgeMe uses a similar business model as KickStarter; if a project is successful in reaching its target, PledgeMe collects a 5 per cent fee from the money raised.
The business has grown to nine part-time staff who are based in Wellington, Auckland and Christchurch and Guenther wants to have people in Hamilton and Dundedin.
Crowdfunding has been included in a new law overhauling how financial products can be created, promoted and sold.
The Financial Markets Conduct Act means offering equity in a business through crowdfunding should be possible from April 1 next year.