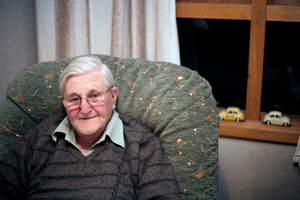 Investors in the late Allan Hubbard's frozen Aorangi Securities have been told they can expect to be repaid most, if not all, of their capital.
An announcement was made today by the statutory managers of Aorangi Securities Limited and Jean Hubbard, widow of Mr Hubbard, that "an amicable settlement" had been reached.
About 400 investors had been facing the prospect of significant losses because of a dispute between the two parties over $60 million worth of assets.
A Timaru High Court hearing was set to go ahead later this month to decide whether Aorangi Securities or the Hubbards owned the assets.
The hearing, which has now been dismissed, would have been key to whether investors in the failed group got most or only a third of their money back.
Receivers Graeme McGlinn, Richard Simpson and Trevor Thornton of Grant Thornton said although terms of the settlement were confidential, "most, if not all" of the Aorangi investors' capital would be returned over time.
"The process will involve the co-operative realisation of assets, some of which are due to settle during June 2013," they said in a statement.
"Investor's capital will be repaid progressively as funds become available."
The settlement concerned shares and loans in farm-owning companies, partnerships and commercial entities introduced to Aorangi by the Hubbards between April 2009 and March 2010.
As of February, the Aorangi investors had received 15 cents in the dollar, or $14.5 million of the $96 million owed.
Timaru investor John Rodger said today's news was "very pleasing".
"The best part is it's not going to court. That would have cost a lot of money."
Mr Rodger said he had suffered greatly from the ordeal and it was about time he and other investors received some good news.
"There's no two ways about it, it's very pleasing. Hopefully it doesn't take too long to settle it. That worries me a bit."
The next Statutory Managers' report - which is due at the end of July - will provide an update on the asset realisation process for returning capital to investors.
Former Commerce Minister Simon Power appointed the statutory managers of various Hubbard entities, though controversially left out Allan Hubbard's primary entity, South Canterbury Finance.
SCF ultimately cost the taxpayer an upfront bill of $1.7 billion when it failed and called on a government deposit guarantee scheme created to protect investors during a spate of finance company collapses in the late 2000`s.
- with BusinessDesk