Hams, turkeys, baby potatoes and puddings tickle tastebuds for most anticipated meal of year.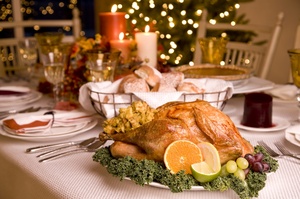 Turkeys, hams, cream and custard are flying off the shelves as New Zealanders prepare for the biggest meal of the year.
But if you're worried about the dent Christmas lunch will make in your pocket, there are ways to make a little bit of money go a long way.
Hams are the most popular serving on the table this year - Countdown spokesman Luke Schepen said they expected to sell 120,000 this month.
This compares with the 400 a month the supermarket chain sells in other months.
As for turkeys, which are sold only in the leadup to Christmas, Countdown expects 40,000 to go through its checkouts.
Cranberry sauce sales have increased 17 times, but gravy sales have remained the same and are constant throughout the year.
Potatoes are still in demand - mainly with a rise in sales of the premium small salad potatoes, Mr Schepen said.
During the year the sales of potato to kumara is four to one, while over Christmas this ratio narrows to around three to one potatoes to kumara sold.
Christmas puddings are the dessert of choice for shoppers who typically buy 3.5 puddings to every pavlova sold in December.
However, the sales of pavlova increase considerably in December - for every one sold in a normal week of the year, Countdown sells an average of 40 more in the week before Christmas.
And the desserts' trimmings are also being snapped up.
The sales of cream and custard increase considerably over Christmas, by 77 per cent and 253 per cent respectively.
Family Budgeting Services Federation chief executive Raewyn Fox said to help make Christmas lunch more affordable, there are a few tricks to keeping costs down.
"If you're having a big lunch with all the family over, get everyone to bring something so the cost doesn't fall on one person," Ms Fox said.
"And some foods are obviously cheaper than others."
Also, having a picnic at the beach or a barbecue is a good way of saving money, as well as being more seasonally appropriate.
"And making it yourself - that can save you a bit of money," she said.
The typical family Christmas takes 12 days, 14 hours and 13 minutes to organise, a British study found this year.
Between shopping for presents, hanging decorations and cooking, the hours devoted to making Christmas Day special adds up to almost two weeks.
The study also found the average family begins planning and saving money for Christmas at the end of August.
However, not everybody is quite so well-prepared; a third of families leave all the work to the four weeks leading up to December 25.